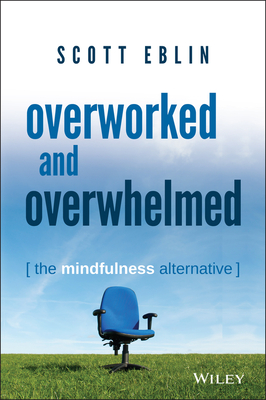 Overworked and Overwhelmed (Hardcover)
The Mindfulness Alternative
Wiley, 9781118910665, 262pp.
Publication Date: October 13, 2014
* Individual store prices may vary.
Description
Leverage mindful awareness and intention to achieve betteroutcomes
Overworked and Overwhelmed: The Mindfulness Alternativeoffers practical insights for the executive, manager orprofessional who feels like their RPM is maxed out in the red zone.By making the concepts and practices of mindfulness simple, practical and applicable, this book offers actionable hope fortoday's overworked and overwhelmed professional.
New research shows that the smartphone equipped professional isconnected to work 72 hours a week. Forty eight percent of Americansreport that their stress level is up and that the number one sourceof stress is the job pressure of a 24/7 world.
What's the alternative? Top leadership coach and educator ScottEblin offers one in Overworked and Overwhelmed: The MindfulnessAlternative. While mindfulness is one of the "Top Ten Trendsfor 2014 and Beyond," many professionals think it's just too hardto give it a try. In this book, Eblin shows that mindfulness thatmakes a difference doesn't require meditating like a Buddhistmonk.
Overworked and Overwhelmed is a handbook for more mindfulwork and living that offers:
"Must know" mindfulness basics that today's professional needsto thrive in a 24/7 world.
Inspiring examples of mindfulness in action from dozens ofleaders ranging from a U.S. Coast Guard Commandant to the CEO ofHilton Worldwide.
A self assessment for readers to understand how they perform attheir best.
Simple routines to reduce stress and sustain peakperformance.
A personal planning framework for creating the outcomes thatmatter most at home, at work and in the community.
Even small increases in mindfulness can lead to big changes inproductivity and quality of life for the overworked and overwhelmedprofessional. Overworked and Overwhelmed: The MindfulnessAlternative is a guide for doing just that.
About the Author
SCOTT EBLIN is the cofounder and president of the EblinGroup, a professional development firm that supports executives andmanagers in exhibiting leadership presence by being fully present.As an executive coach, speaker, and author, Eblin works with seniorand rising leaders in some of the world's best known and regardedorganizations. He is the author of The Next Level: What InsidersKnow About Executive Success (2010).Eblin is a graduate of Davidson College, holds a master's degreefrom Harvard University and a certificate in leadership coachingfrom Georgetown University where he is on the program faculty. Heis also a Registered Yoga Teacher.