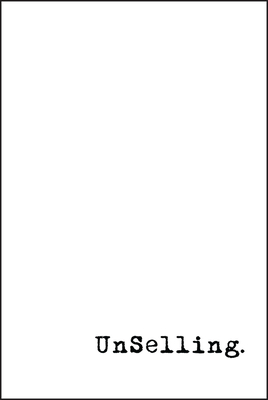 Unselling. (Hardcover)
The New Customer Experience
Wiley, 9781118943007, 234pp.
Publication Date: September 29, 2014
* Individual store prices may vary.
Description
UnSelling is about everything but the sell. We put all ofour focus on the individual purchase transaction, while putting therest of our business actions second. We've become blind to customerservice, support, branding, experiences and even product quality.Sixty percent of a purchasing decision is made before a customereven contacts you. We have funnel vision, and it needs to stop.
Unselling is about the big picture: creating repeatcustomers, not one-time buyers. Create loyal clients that referothers, not faceless numbers. Becoming the go-to company forsomething, before they even need you.
You don't need social media, but you can be connecting with yourclients socially. Your video doesn't have to be viral in front of amillion people, just contagious in front of your specific market.Content, connection, engagement. It's time to separate from thepack of noise. It's time to UnSell.
About the Author
SCOTT STRATTEN & ALISON KRAMER are cohosts of notonly The UnPodcast, but five children, two dogs and two cats. Thisis their fourth bestselling book together, which represent theirthoughts on the changing world of business through theirexperiences of entrepreneurship, two degrees (Alison), not lastinglong as an employee (both) and screaming at audiences around theworld (Scott, Alison is more polite). They were put on this earthto remind the world that not all Canadians are passively polite.Businesses like PepsiCo, Saks Fifth Avenue, Cirque du Soleil andothers have been brave enough to want their advice, to the pointthat Scott has been named one of the Top 5 Social Media Influencersin the world by Forbes.com. They now spend their time keynotingconferences around the world and realize they rank 10th and 11th inorder of importance in their home.