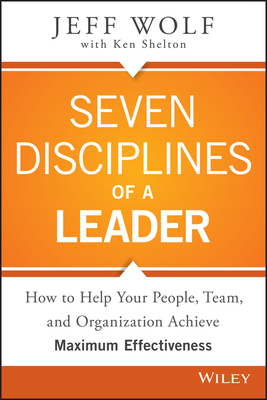 Seven Disciplines of a Leader (Hardcover)
Wiley, 9781119003953, 304pp.
Publication Date: November 17, 2014
* Individual store prices may vary.
Description
Recognize, develop, and embody great leadership
Seven Disciplines of A Leader is a comprehensive manualfor building better leaders. Author and executive coach Jeff Wolfis a respected authority on leadership, and his strategies andinspiration have fostered dramatic growth in some of the nation'stop companies. In this book, he shares the secrets of greatleadership to help readers align professional development andexemplify these traits themselves. Each of the Disciplines isvaluable on its own, but together they add up to more than a sum oftheir parts, and work synergistically to propel leaders to higherand higher effectiveness and companies to better and betterbusiness. From initiative, to planning, to community service, readers will gain deep insight into what separates the good fromthe great, and how organizations can nurture these qualities intheir employees with leadership potential.
A good leader gets results, but a great leader inspires everysingle member of the team to reach their utmost potential everysingle time. A great leader makes everyone shine, and provides thevision, the tools, and the support people need to do their verybest work. This book describes how it's done, and how greatness canbe learned.
Discover the traits that make leaders great
Align leadership development training to maximizepotential
Foster the right attitudes and behaviors for betteroutcomes
Build a culture of sustainable success that permeates theorganization
Individual achievement is great, but fostering a culture ofachievement sends business into the future on an upward trajectory.It's more than just a single inspired employee; it's aboutrecognizing the signs of potential leadership and nurturing them tofruition throughout the organization. Seven Disciplines of ALeader is the field guide to great leadership.
About the Author
JEFF WOLF is recognized as one of the top executivecoaches in the country and is a dynamic and engaging speaker. Ahighly sought-after business consultant, his strategic focus insolving corporate and human issues has earned him continuing ravesfrom global firms.Leadership Excellence magazine named him one of America'sTop 100 Thought Leaders for his accomplishments in leadershipdevelopment, managerial effectiveness, and organizationalproductivity.He is currently president of Wolf Management Consultants, LLC, one of the most comprehensive consulting, coaching and trainingfirms in the world. The firm specializes in helping people, teams, and organizations achieve maximum effectiveness.Throughout the years, he has been a recognized authority onleadership, and his principles, strategies, and inspiration haveinfluenced dramatic growth and changes in countless organizations.He may be reached at www.wolfmotivation.comKEN SHELTON is CEO of Authentic Leadership and foundingeditor/publisher of Leadership Excellence magazine. Hecollaborated with Stephen R. Covey on the 7 Habits of HighlyEffective People and is editor/publisher of 128 other books onpersonal and leadership development.
or
Not Currently Available for Direct Purchase