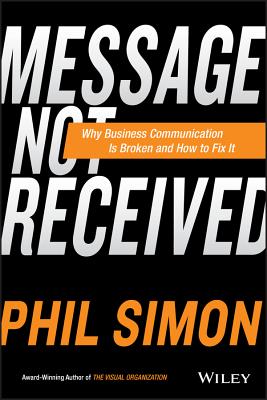 Message Not Received
Why Business Communication Is Broken and How to Fix It
Hardcover

* Individual store prices may vary.
Description
Get your message across the right way with clear communication
Message Not Received provides the tools and techniques that make an effective writer and public speaker. Particularly on topics related to data and technology, effective communication can present a challenge in business settings. This book shows readers how those challenges can be overcome, and how to keep the message from getting lost in the face of mismatched levels of knowledge, various delivery media, and the library of jargon that too often serves as a substitute for real, meaningful language. Coverage includes idea crystallization, the rapidly changing business environment, Kurzweil's law of accelerating change, and our increasing inability to understand what we are saying to each other. Rich with visuals including diagrams, slides, graphs, charts, and infographics, this guide provides accessible information and actionable guidance toward more effectively conveying the message.
Today, few professionals can ignore the tsunami of technology that permeates their lives, advancing far more rapidly that most of us can handle. As a result, too many people think that successful speaking means using buzzwords, jargon, and invented words that sound professional, but don't actually communicate meaning. This book provides a path through the noise, helping readers get their message across succinctly, efficiently, and effectively.
Adapt your approach for more effective communication
Learn the critical skill of crystallizing ideas
Tailor your style to the method of delivery
Ensure that your message is heard, understood, and internalized
It doesn't matter whether you're pitching to a venture capitalist, explaining daily challenges to a non-tech manager, or speaking to hundreds of people - jargon-filled word salad uses a lot of words to say very little. Better communication requires a different approach, and Message Not Received gives you a roadmap to more effective speaking and writing for any audience or medium.
Wiley, 9781119017035, 272pp.
Publication Date: March 16, 2015
About the Author
PHIL SIMON is a frequent keynote speaker and recognized technology authority. He is the award-winning author of six previous management books, including the award-winning The Age of the Platform. While not speaking and writing, he advises organizations on matters related to communication strategy, data, and technology. His contributions have been featured in the Harvard Business Review, CNN, Wired, the New York Times, NBC, CNBC, Inc. magazine, BusinessWeek, The Huffington Post, Forbes, Fast Company, and many other media outlets. He holds degrees from Carnegie Mellon and Cornell University.