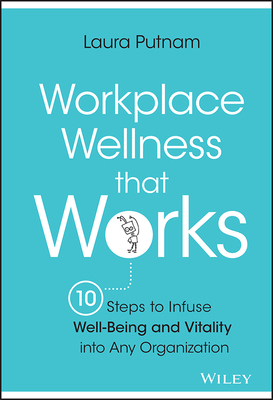 Workplace Wellness That Works (Hardcover)
10 Steps to Infuse Well-Being and Vitality Into Any Organization
Wiley, 9781119055914, 352pp.
Publication Date: June 15, 2015
* Individual store prices may vary.
Description
A smarter framework for designing more effective workplacewellness programs
Workplace Wellness That Works provides a freshperspective on how to promote employee well-being in the workplace.In addressing the interconnectivity between wellness andorganizational culture, this book shows you how to integratewellness into your existing employee development strategy in morecreative, humane, and effective ways. Based on the latest researchand backed by real-world examples and case studies, this guideprovides employers with the tools they need to start making adifference in their employees' health and happiness, and promotingan overall culture of well-being throughout the organization.You'll find concrete, actionable advice for tackling the massiveobstacle of behavioral change, and learn how to design andimplement an approach that can most benefit your organization.
Promoting wellness is a good idea. Giving employees theinspiration and tools they need to make changes in their lifestylesis a great idea. But the billion-dollar question is: what dothey want, what do they need, and how do we implement programs tohelp them without causing more harm than good? WorkplaceWellness That Works shows you how to assess your organization'sneeds and craft a plan that actually benefits employees.
Build an effective platform for well-being
Empower employees to make better choices
Design and deliver the strategy that your organizationneeds
Drive quantifiable change through more creativeimplementation
Today's worksite wellness industry represents a miasma ofcompeting trends, making it nearly impossible to come away withtangible solutions for real-world implementation. Harnessing abroader learning and development framework, Workplace WellnessThat Works skips the fads and shows you how to design a smarterstrategy that truly makes a difference in employees'lives--and your company's bottom line.
About the Author
LAURA PUTNAM is founder and CEO of Motion Infusion, a well-being consulting firm that provides creative solutions in the areas of engagement, behavior change, and human performance improvement. She has worked with a range of organizations from Fortune 500s to government agencies to academic institutions and nonprofits. She also serves as the Chair of the American Heart Association's Greater Bay Area 2020 Task Force.