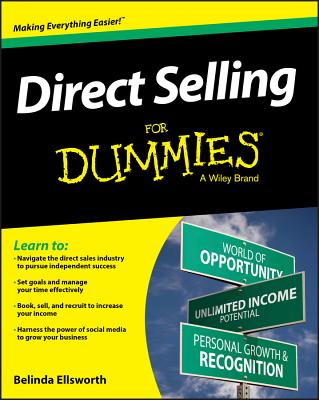 Direct Selling for Dummies (Paperback)
For Dummies, 9781119076483, 384pp.
Publication Date: October 12, 2015
* Individual store prices may vary.
Description
Become a direct sales success story with this insider guide tomaking it big
Direct Selling For Dummies is the perfect resource foranyone involved or interested in direct sales. Written by a 35-yearveteran of this booming industry, this useful guide teaches youeverything you need to know to achieve and maintain lastingsuccess. You'll learn the insider tips that only the pros know, andhow to structure your business, your time, and your customerrelationships to optimize sales and achieve your goals. Compareparty plans, multi-level marketing, and hybrid models to see whereyour talents fit best, and discover the most effective ways topromote your products and get people interested. You'll leveragesocial media as one of the most powerful tools in modern sales, andgain new ideas for recruiting, booking, and time management. Withclear guidance and a fun, friendly style, this book gives you thestrategies you need to be a direct sales success.
The direct sales industry is going strong, with moreparticipants now than any time in the past, yet with lessface-to-face engagement. Businesses are operating online, peopleare shopping online, and more people are recruiting throughplatforms like social media. If you hope to be a direct salessuccess, now is the time to get up to speed on what that meanstoday. This book shows you everything you need to know, and givesyou the tools you need to put your ideas into action.
Choose the right direct sales model
Secure bookings and manage your time
Recruit and drive interest in the product and company
Harness the power of social media to make sales
Direct sales can be your ticket to independence. Stop punchingthe clock and become your own boss -- and watch your incomegrow. With Direct Selling For Dummies, you'll have theskills and information you need to be a success.
About the Author
Belinda Ellsworth is a veteran motivational speaker, sales trainer, and expert for the direct sales industry. With more than 30 years of experience, she has trained thousands of independent sales representatives, managers, and executives and has worked with more than 100 direct sales companies.