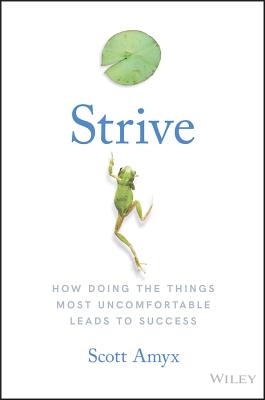 Strive (Hardcover)
How Doing the Things Most Uncomfortable Leads to Success
Wiley, 9781119387305, 224pp.
Publication Date: April 3, 2018
* Individual store prices may vary.
Description
Has success eluded you, no matter how hard you try?
Are you frustrated by trying to achieve your dreams by copying others? Internationally-acclaimed speaker and founder of the cutting-edge venture capital Amyx Ventures, Scott Amyx reveals how you can attain real success in your life, your way. His theory of Strive is a challenge to the conventional wisdom that has held so many people back from achieving their goals and enjoying lasting happiness. Scott rose from obscure poverty to globe-trotting success, and he invites you to share in his journey by adopting a new mindset towards your personal challenges: embrace them. Scott shows you how through stories of the most unlikely individuals who embraced difficult personal change to become outrageously successful. He helps you take stock of your own habits and practices to identify how your routine and misconceptions are holding you back. Fascinating insights from throughout history up through today's cutting-edge research show how embracing discomfort fuels lasting success.
Shape your life in new, exciting ways. You can have control over your career, your outlook, your actions, and your priorities. This book helps you get a fresh start to begin building the successful life you want.
Discover what really drives success---and how conventional wisdom is wrong
Clearly identify your own personal challenges---and how to overcome them
Delve into the latest research on high performance to create a better you
Learn how high-achievers approach challenge, change, and success
Strive is an unconventional approach to attaining your dreams because it takes what makes you unique and turns it to your advantage. Have you been duped by common myths of success? Are you disappointed by the constant struggle in life? Scott reveals how only you have the power to change your trajectory. Strive is your handbook for getting comfortable with discomfort, embracing and enjoying new challenges, and achieving real, lasting success.
About the Author
Scott Amyx grew up an impoverished immigrant who was frequently told he would amount to nothing. Today he is an internationally recognized thought leader, speaker, and author on the Internet of Things and emerging technologies. He received the Cloud & DevOps World 2016 Award for Most Innovative and was voted Top Global IoT Influencer & Expert by Inc. magazine. He also was named Top IoT Authority by the Internet of Things Institute, and Speaking.com's Top 10 Global Speakers. In addition, Scott has been nominated to the World Economic Forum as a committee member for the Future of the Internet and nominated by global luminaries for TED Talk.