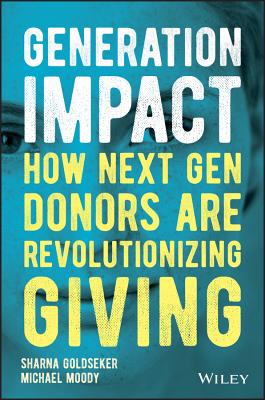 Generation Impact
How Next Gen Donors Are Revolutionizing Giving
Hardcover

* Individual store prices may vary.
Description
An insider's guide to the coming philanthropic revolution
Meet the next generation of big donors--the Gen X and Millennial philanthropists who will be the most significant donors ever and will shape our world in profound ways. Hear them describe their ambitious plans to revolutionize giving so it achieves greater impact. And learn how to help them succeed in a world that needs smart, effective donors now more than ever.
As "next gen donors" step into their philanthropic roles, they have not only unprecedented financial resources, but also big ideas for how to wield their financial power. They want to disrupt the traditional world of charitable giving, and they want to do so now, not after they retire to a life of philanthropic leisure.
Generation Impact pulls back the curtain on these rising leaders and their "Impact Revolution," offering both extensive firsthand accounts and expert analysis of the hands-on, boundary-pushing, unconventional strategies next gen donors are beginning to pursue. This fascinating book also shows another side of the donors in Generation Impact: they want to respect the past even as they transform the future. They are determined to honor the philanthropic legacies and values they've inherited by making big giving more effective than ever before. If they succeed, they can make historic progress on causes from education to the environment, from human rights to health care.
Based on years of research and close engagement with next gen donors, Generation Impact offers a unique profile of the new faces of philanthropy. Find out, directly from them:
How they want to revolutionize giving to expand its positive impact on our lives and our communities.
Which causes interest them, how they want to engage with those causes ... and, perhaps more important, how they do not want to engage.
Which new tools and strategies for change excite them most.
What they are learning from previous generations, and what they want to bring to their work alongside those generations.
How we can all ensure their historic potential is channeled in ways that make our world better.
The Impact Revolution will be messy, but it could also result in solutions for some of our most persistent problems. Generation Impact offers targeted, practical advice to parents, families, and their advisors, as well as nonprofit professionals--those who work closest with these next gen donors--on how to engage, nurture, and encourage them as they reshape major giving and make their mark on history. Help them channel their enthusiasm--and their wealth--to make the most positive difference in a world with such great need.
Wiley, 9781119422815, 336pp.
Publication Date: October 2, 2017
About the Author
SHARNA GOLDSEKER is a speaker, writer, consultant, and today's leading expert on multigenerational and next generation philanthropy. A next gen donor herself, she offers a trusted insider's perspective. As executive director of 21/64, the nonprofit practice she founded to serve philanthropic and family enterprises, Sharna has created the industry's gold-standard tools for transforming how philanthropic families define their values, collaborate, and govern. MICHAEL MOODY helps people navigate today's complex world of giving and social innovation. He holds the world's first-ever endowed chair for family philanthropy, the Frey Foundation Chair at the Dorothy A. Johnson Center for Philanthropy at Grand Valley State University. A well-known commentator on the vital role that philanthropy plays in our lives, he is coauthor of Understanding Philanthropy: Its Meaning and Mission and The Philanthropy Reader.
or
Not Currently Available for Direct Purchase