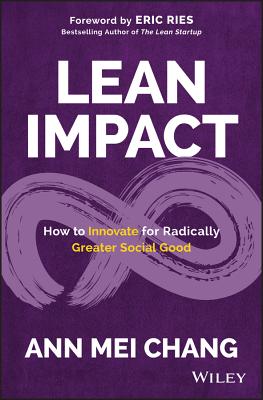 Lean Impact (Hardcover)
How to Innovate for Radically Greater Social Good
Wiley, 9781119506607, 256pp.
Publication Date: November 6, 2018
* Individual store prices may vary.
Description
What if we could increase the social impact of our time and money exponentially?
Inspired by the modern innovation practices that have fueled the breakthrough products and technologies that now touch every aspect of our lives, Lean Impact turns our attention to a new purpose - radically greater social good. But, changing the world is far more complicated than building an app, and requires more listening, more care, and more stakeholders. To accelerate impact, we need to ensure solutions are valued, solve real problems, and have an engine to drive growth. Lean Impact presents practical tools and strategies, building on the customer-centric, fast iteration, and data-driven approaches popularized New York Times bestseller, The Lean Startup.
Ann Mei Chang brings a unique perspective from across sectors, with her executive roles at top Silicon Valley companies, nonprofits, and government - most recently as Chief Innovation Officer at USAID. She vividly illustrates the book with the real stories and experiences of inspiring nonprofits, social enterprises, companies, foundations, government agencies, and philanthropists from the US and around the world.
Lean Impact is an essential guidebook for anyone who seeks to maximize social impact and scale.
About the Author
ANN MEI CHANG is a leading advocate for innovation who has worked across the tech industry, nonprofits, and the U.S. government. As the Chief Innovation Officer at USAID, she served as the first Executive Director of the U.S. Global Development Lab - engaging the best practices for accelerating impact and scale from Silicon Valley for the world's most intractable challenges. Her approach to Lean Impact has been featured at TEDGlobal, Skoll World Forum, and numerous nonprofits, foundations, and government agencies. Prior to her pivot to the social sector, Ann Mei held executive roles at leading companies including Google, Apple, and Intuit, along with some startups. Ann Mei is a nonresident fellow in the Global Economy and Development Program at the Brookings Institution, a visiting fellow at the Center for Global Development, and a member of the 2011 class of Henry Crown Fellows at the Aspen Institute.