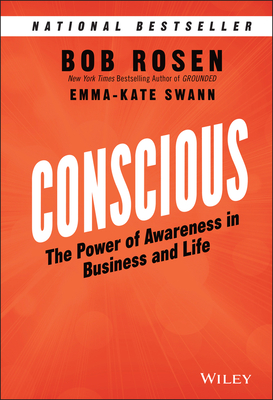 Conscious (Hardcover)
The Power of Awareness in Business and Life
Wiley, 9781119508458, 272pp.
Publication Date: July 18, 2018
* Individual store prices may vary.
Description
Conscious is a deeply human approach to personal change
Our world is changing faster than our ability to adapt. Ambushed by speed, complexity, and uncertainty, many of us are unprepared for this acceleration. We act on autopilot as new challenges confront us. We are too reactive to problems and miss out on opportunities. We get hijacked by conflicting values and polarizing relationships. We face uncertainty with fear and mistrust. Stress and burnout are pervasive as many of us do not perform up to our potential.
Organizations are not adapting well either. Seventy percent of change efforts fail. Slow execution, unrealized growth, unhealthy cultures, and obsession with short-term results undermine long-term success. Inside communities, there is more tension, diminishing trust in our institutions, and a growing inability to solve our most complex social problems. The primary culprit for these maladies is our lack of awareness.
Let's face it: Our current approach to change is running out of steam. And the cost of unaware people is too high to pay. In this age of acceleration, we need a fresh approach to living and leading.
CONSCIOUS is our wake-up call - to be aware, awake, and accountable. Nothing is more important than understanding ourselves, our relationships, and our surroundings. Being conscious helps us think deeper, learn faster, and collaborate better. The more conscious we are, the faster we adapt, and the higher performing we become. Conscious is the new smart.
As one of the premier global experts on leadership and transformation, Bob Rosen and Healthy Companies have revealed a profound truth about modern-day change: the most successful people, at all levels of society, follow four powerful practices of being conscious:
Go Deep - Discover your inner self
Think Big - See a world of possibilities
Get Real - Be honest and intentional
Step Up - Act boldly and responsibly
Conscious is your personal roadmap through transformation - helping you adapt and accelerate into the future. To create sustainable change for yourself and your business. Why not be the one with your head lights on while others are driving in the dark?
About the Author
BOB ROSEN is the founder and CEO of Healthy Companies. He is a trusted global CEO advisor, organizational psychologist, and bestselling author who has long been on a mission to transform the world of business. Healthy Companies has the singular goal of helping executives and managers achieve their leadership potential and build healthy, high-performing, and sustainable organizations. He is a global keynote speaker, media commentator and the author of Grounded: How Leaders Stay Rooted in an Uncertain World. EMMA-KATE SWANN is Vice President, Leadership and Transformation at Healthy Companies. She works alongside the team to both support and lead key client engagements. Swann coaches executives on optimizing their performance, helps organizations navigate through change, and guides executive teams in building more productive relationships.