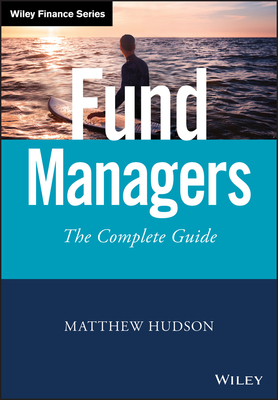 Fund Managers (Hardcover)
The Complete Guide (Wiley Finance)
Wiley, 9781119515586, 368pp.
Publication Date: December 16, 2019
* Individual store prices may vary.
Description
The definitive guide on fund and asset managers worldwide
Fund Managers: The Complete Guide is an all-encompassing overview of fund and asset managers around the globe. The only comprehensive guide on the subject, this book covers both the fund manager and the market as a whole while providing insights from current and future fund managers and leaders in the technology industry from the UK, EU and US. Focused examination of the fund managers and their investors - the categories of manager, the asset classes they participate in, how they are using technology and their views on the market - complements a wider survey of the market that includes upcoming changes to regulation, taxation and political shifts in the Western world.
The asset management industry continues to undergo significant changes that rise from the Global Financial Crisis and its recovery, the recent technology boom and political fluctuations that have altered the way business is conducted in financial markets around the world. Questions concerning China and Asia's rise, Trumpian influence in America and post-Brexit UK-EU relations underscore the contemporary relevance of Fund Managers: The Complete Guide to current and future discourse within the industry. This important volume:
Explains worldwide roles, purposes and operations of asset managers including how local culture influences their strategies
Examines different types of assets and asset-management strategies
Investigates the influence of macroeconomic and political factors such as governance and regulation, international taxation, anti-globalisation and populism
Illustrates the impact of technology and its disruptive products and players
Describes the different types of investor investing in the managers' funds and how they view the industry
Future-gazes over the ten years and beyond for the industry
Fund Managers: The Complete Guide is the authoritative resource for anyone who requires an overview of the asset management industry and up-to-date insights on current and future trends and practices. The book also complements the author's earlier work Funds: Private Equity, Hedge and All Core Structures.
About the Author
MATTHEW HUDSON is well known in the asset management and fund management industries, with over 30 years of experience as both a lawyer and an investor. With particular expertise in alternative assets, Matthew has built several financial and professional services firms, including asset management consultancy MJ Hudson, which advises over 750 fund managers. His broad investment experience (from funds of funds to venture capital) spans four groups: CSFB, Far Blue Ventures, Tower Gate Capital and Coller Capital. Matthew speaks regularly on alternative asset topics, and he is author of the leading text Funds: Private Equity, Hedge and All Core Structures (Wiley Finance).