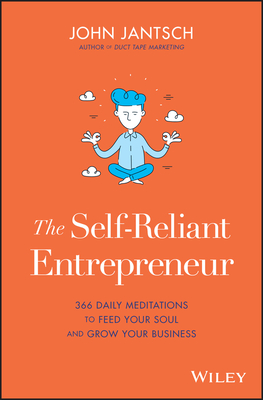 The Self-Reliant Entrepreneur (Hardcover)
366 Daily Meditations to Feed Your Soul and Grow Your Business
Wiley, 9781119579779, 400pp.
Publication Date: October 22, 2019
* Individual store prices may vary.
Description
A guide for creating a deeper relationship with the entrepreneurial journey
The Self-Reliant Entrepreneur offers overworked and harried entrepreneurs, and anyone who thinks like one, a much-needed guide for tapping into the wisdom that is most relevant to the entrepreneurial life. The book is filled with inspirational meditations that contain the thoughts and writings of notable American authors. Designed as a daily devotional, it is arranged in a calendar format, and features readings of transcendentalist literature and others.
Each of The Self-Reliant Entrepreneur meditations is followed by a reflection and a challenging question from John Jantsch. He draws on his lifetime of experience as a successful coach for small business and startup leaders to offer an entrepreneurial context. Jantsch shows how entrepreneurs can learn to trust their ideas and overcome the doubt and fear of everyday challenges. The book contains:
A unique guide to meditations, especially designed for entrepreneurs
A range of topics such as self-awareness, trust, creativity, resilience, failure, growth, freedom, love, integrity, and passion
An inspirational meditation for each day of the year. . . including leap year
Reflections from John Jantsch, small business marketing expert and the author of the popular book Duct Tape Marketing
Written for entrepreneurs, as well anyone seeking to find a deeper meaning in their work and life, The Self-Reliant Entrepreneur is a practical handbook for anyone seeking to embrace the practice of self-trust.
About the Author
JOHN JANTSCH has owned a business for almost three decades, observing and documenting the entrepreneurial experience through his own unique story. He is the bestselling author of Duct Tape Marketing, The Referral Engine, and more. His books have been translated into ten languages, and his writing has appeared in Inc., Entrepreneur, and Southwest: The Magazine. More about John at ducttapemarketing.com.