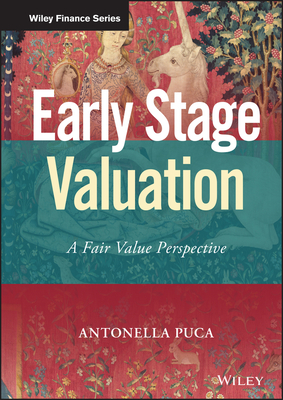 Early Stage Valuation (Hardcover)
A Fair Value Perspective (Wiley Finance)
Wiley, 9781119613633, 384pp.
Publication Date: June 30, 2020
* Individual store prices may vary.
Description
Addresses significant developments in the valuation of early stage enterprises at fair value with emphasis on practical applications--features a broad selection of case studies of early stage valuation
Early Stage Valuation: A Fair Value Perspective provides a comprehensive review of the current methodologies used to value Early Stage Enterprises (ESEs) at fair value for financial reporting, investment, and mergers and acquisitions. Author Antonella Puca, Senior Director with Alvarez & Marsal Valuation Services in New York, provides accurate, up-to-date information on recent guidelines and new approaches for valuation assessments.
This authoritative guide examines how to apply market analysis, discounted cash flows models, statistical techniques such as option pricing models (OPM) and Monte Carlo simulation, the venture capital method and non-GAAP metrics to ESE valuation. The text considers the most recent AICPA, Appraisal Foundation and IPEV guidance, and examines developments in both academic research and venture capital investor practice. Numerous real-world case studies illustrate early stage valuation suitable for structuring sound, internally consistent business transactions. Covering current trends and the latest regulatory guidance in the area, this book:
Provides step-by-step guidance on practical valuation applications
Reflects current standards for ESE valuation, including the AICPA Guide to the Valuation of Portfolio Company Investments, the IPEV guidelines and guidance from the Appraisal Foundation
Covers new approaches to the valuation of ESEs with option pricing models, Monte Carlo Simulation, calibration and non-GAAP metrics
Offers an overview of start-up valuation
Discusses how intangible assets are impacting the valuation of ESEs
The book also includes contributions from Neil Beaton, Andreas Dal Santo, Alexander Davie, John Jackman and Mark Zyla.
Early Stage Valuation: A Fair Value Perspective is an essential resource for valuation specialists, private equity and venture capital fund managers, analysts, attorneys, investment bankers, regulators and auditors, and investors with interest in the private equity and venture capital industry.
About the Author
ANTONELLA PUCA, CFA, CPA/ABV, CEIV, is a Senior Director with Alvarez & Marsal Valuation Services in New York.She currently serves on the Business Valuation Committee of the AICPA and as a consultant on the CFA exam development team. She has served as a member of the AIMA Research Committee and as an executive board member of the CFA Society of New York. Antonella is a frequent presenter and author on valuation and alternative investment topics.