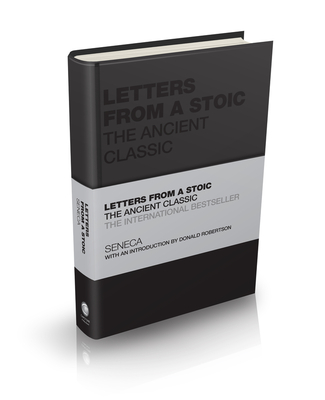 Letters from a Stoic
The Ancient Classic (Capstone Classics)
Hardcover

* Individual store prices may vary.
Other Editions of This Title:
Paperback (7/30/1969)
Paperback (7/14/2017)
Paperback (7/6/2017)
Hardcover (6/22/2017)
Hardcover (12/25/2018)
Hardcover (9/28/2015)
Paperback (7/11/2018)
Paperback (6/21/2017)
Hardcover (7/11/2018)
Paperback (12/25/2018)
Paperback (9/14/2021)
Paperback (5/28/2017)
Hardcover (10/18/2020)
Paperback (10/18/2020)
Hardcover (4/28/2015)
Description
DISCOVER THE ENDURING LEGACY OF ANCIENT STOICISM
Since Roman antiquity, Lucius Annaeus Seneca's Letters have been one of the greatest expressions of Stoic philosophy. In a highly accessible and timeless way, Seneca reveals the importance of cultivating virtue and the fleeting nature of time, and how being clear sighted about death allows us to live a life of meaning and contentment.
Letters from a Stoic continues to fascinate and inspire new generations of readers, including those interested in mindfulness and psychological techniques for well-being.
This deluxe hardback selected edition includes Seneca's first 65 letters from the Richard M. Gummere translation. An insightful introduction by Donald Robertson traces Seneca's busy life at the centre of Roman power, explores how he reconciled his Stoic outlook with vast personal wealth, and highlights Seneca's relevance for the modern reader.
Capstone, 9781119751359, 416pp.
Publication Date: April 19, 2021
About the Author
Lucius Annaeus Seneca was a Roman philosopher, statesman, orator and tragedian. He was one of Rome's leading intellectual figures in the mid-1st century CE, and as Emperor Nero's closest adviser effectively governed Rome for five years. Seneca was born in Corduba in Hispania, raised in Rome, and trained in rhetoric and philosophy. His many essays and letters make him a central figure in the history of Stoicism. Donald Robertson is a cognitive-behavioural psychotherapist, writer, and trainer, specializing in the relationship between philosophy, psychology, and self-improvement. He's particularly known for his work on Stoic philosophy, and is the author of How To Think Like A Roman Emperor: The Stoic Philosophy of Marcus Aurelius. Tom Butler-Bowdon is Series Editor of the Capstone Classics series, and has provided Introductions for Plato's Republic, Adam Smith's Wealth of Nations, Machiavelli's The Prince, Florence Scovel Shinn's The Game of Life and How to Play It, and Kahlil Gibran's The Prophet. A graduate of the London School of Economics, he is also the author of 50 Economics Classics (2017) and 50 Politics Classics (2015). www.butler-bowdon.com
or
Not Currently Available for Direct Purchase