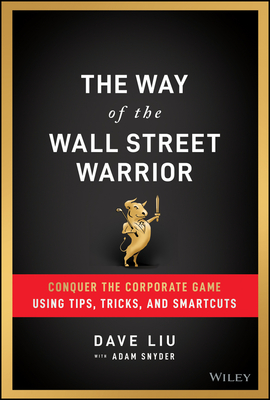 The Way of the Wall Street Warrior
Conquer the Corporate Game Using Tips, Tricks, and Smartcuts
Hardcover

* Individual store prices may vary.
Description
A Wall Street Insider's Guide to getting ahead in any highly competitive industry
Dave learned how to win in investment banking the hard way. Now he is able to share tools that make it easier for budding bankers and other professionals to succeed.
--Frank Baxter, Former CEO of Jefferies and U.S. Ambassador to Uruguay

A must-read for anyone starting their career in Corporate America. Dave's book shares witty and valuable insights that would take a lifetime to learn otherwise. I highly recommend that anyone interested in advancing their career read this book.
--Harry Nelis, Partner of Accel and former Goldman Sachs banker

In The Way of the Wall Street Warrior, 25-year veteran investment banker and finance professional, Dave Liu, delivers a humorous and irreverent insider's guide to thriving on Wall Street or Main Street. Liu offers hilarious and insightful advice on everything from landing an interview to self-promotion to getting paid.
In this book, you'll discover:
How to get that job you always wanted
Why career longevity and "success" comes from doing the least amount of work for the most pay
How mastering cognitive biases and understanding human nature can help you win the rat race
How to make people think you're the smartest person in the room without actually being the smartest person in the room
How to make sure you do everything in your power to get paid well (or at least not get screwed too badly)
How to turn any weakness or liability into an asset to further your career
Wiley, 9781119811909, 304pp.
Publication Date: November 9, 2021
About the Author
DAVE LIU is a 30-year veteran from Wall Street and Silicon Valley. He's raised over $15 billion for hundreds of companies, created multiple start-ups, and had multiple billion dollar exits. He previously worked at investment banks Goldman Sachs and Jefferies, where he rose from the entry level to Managing Director co-running all Digital Media and Internet investment banking activities. He's an expert in finance, entrepreneurship, venture capital, and playing the corporate game. He has a MBA from Harvard Business School and two BS degrees from the University of Pennsylvania in economics and engineering. He can be reached on his website: www.liucrative.com