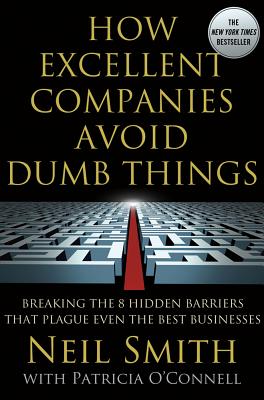 How Excellent Companies Avoid Dumb Things (Hardcover)
Breaking the 8 Hidden Barriers That Plague Even the Best Businesses
Palgrave MacMillan Trade, 9781137003065, 240pp.
Publication Date: June 5, 2012
Other Editions of This Title:
Digital Audiobook (9/10/2012)
CD-Audio (9/11/2012)
Paperback (9/24/2013)
* Individual store prices may vary.
Description
Every day, seemingly intelligent and successful companies make headline news for poor decisions that can cause their business to stumble and make many of us scratch our heads in wonder. Why would such a successful business make "that" strategic decision? Neil Smith, with more than 20 years of experience leading large-scale performance improvements, reveals the hidden barriers that limit excellent companies from reaching their potential, and cause even the smartest managers and leaders to falter. During his experience transforming some of the top global businesses, Smith has identified 8 barriers that exist in every organization and prevent them from implementing literally thousands of ideas to improve the way they work:
Avoiding Controversy
Poor Use of Time
Reluctance to Change
Organizational Silos
Management Blockers
Incorrect Information and Bad Assumptions
Size Matters
Existing Processes
Rich with anecdotes and case studies, Smith identifies the ways in each of these barriers interrupt your own business. He then outlines a fast and proven process in which 12 principles of business transformation can break down the processes that hold companies back. What Smith offers his readers is the same thing he offers every day to the major companies he works with, A PROMISE that by following his insights, the company will be able to increase communication, simplicity, and profit to levels never before attainable.
Throughout the book, Dr. Richard Levak has contributed personality and organizational insights that shed light on why an individual or an organization behaves in contrary ways giving you a better sense of why these internal walls exist and how to be aware of your actions in your day to day life.
About the Author
Neil Smith, CEO of Promontory Growth and Innovation (PGI), has for the last 20 years focused on helping large corporations dramatically improve performance and profitability by growing revenues and innovatively reducing costs. Smith has led initiatives across a number of industries with some of the strongest companies in the U.S. including, Mellon Bank, Willis, and North American Van Lines. He recently spearheaded the highly visable initiative across Bank of America, and a firm he co-founded was responsible for projects at Heinz, Detroit Edison and Blue Cross Blue Shield of Tennessee. His efforts have helped increase profits at top companies by 20 percent or more.Patricia O'Connell, former Management Editor at BloombergBusinessweek.com, brings more than 20 years of writing and editing in a variety of subjects, including business, leadership, and strategy. With contributions from Dr. Richard Levak, a nationally recognized personality expert who has been in private practice for over thirty years and has a growing practice in organizational consulting, assisting businesses with executive hiring, development and teambuilding.
Praise For How Excellent Companies Avoid Dumb Things: Breaking the 8 Hidden Barriers That Plague Even the Best Businesses…
"Neil Smith has helped create incalculable shareholder value and customer loyalty for companies across America and around the world with one 'radical' idea: Our own employees know where the barriers to success are, and they know how to break them down so the CEO and the management teams can drive the vision and strategy we set for our companies." - Brian T. Moynihan, chief executive officer, Bank of America Corporation

"This exciting book, How Excellent Companies Avoid Dumb Things, provides an in-depth look at the structural and behavioral barriers that keep organizations from outstanding performance, and offers a clear set of principles to get on track. Neil Smith's brilliant insights into removing these barriers and empowering employees to produce creative ideas are a must-read for managers everywhere." - Bill George, professor of Management Practice, Harvard Business School, former chairman & CEO of Medtronic, Inc. and author of True North

"Neil Smith makes 'A Promise' for transforming your organization, and I can attest from his work with us at NYSE Euronext that he delivers. In this book, he outlines the process by which any company can become more efficient and profitable while reducing complexity. It is a must-read for any company that wants to improve its performance and for any manager who is serious about adding value to their organization." - Duncan Niederauer, chief executive officer, NYSE Euronext

"This book provides a practical, common sense guide to the main stumbling blocks facing business leaders and how to deal with them." - John Quelch, dean of China Europe International Business School (CEIBS), Shanghai

"A top-notch consultant reveals his secret sauce! Crisply reasoned and crisply written, this book is a virtual how-to-do-it manual for improving your company. If it doesn't give you dozens of good ideas, you haven't read it." - Alan Blinder, Gordon S. Rentschler Memorial professor of Economics and Public Affairs at Princeton University and co-author of Economics: Principles and Policy

"This book is a great gift to leaders facing the 8 barriers because it underscores how critical it is to engage employees across the entire organization. Dumb things, goodbye! " - Frances Hesselbein, president and chief executive officer of Frances Hesselbein Leadership Institute, former chief executive officer, Girl Scouts of the USA and author of My Life in Leadership

"A helpful reminder on how lack of oversight on even commonplace issues can interfere with an enterprise's productivity and success, this work will appeal to managers and leaders alike." - Publishers Weekly

"Neil Smith provides brilliant insights and great practical advice, based on his global expertise in helping excellent companies challenge the status quo and improve performance. Move this book to the top of your inbox." - Martin Sullivan, deputy chairman of Willis Group Holdings PLC and chairman and CEO of Willis Global Solutions
or
Not Currently Available for Direct Purchase