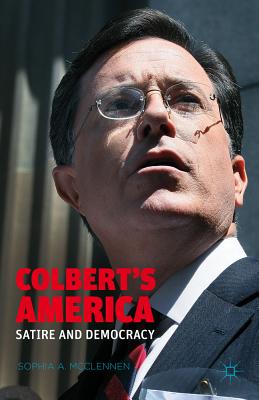 America According to Colbert (Paperback)
Satire as Public Pedagogy (Education)
Palgrave MacMillan, 9781137014726, 217pp.
Publication Date: November 30, 2011
* Individual store prices may vary.
Description
America According to Colbert: Satire as Public Pedagogy post 9/11 argues that, in contrast to the anti-intellectualism, the sensationalism, and the punditry that tend to govern most mass media today, Stephen Colbert's program offers his audience the opportunity to understand the context through which most news is reported and to be critical of it.
About the Author
Sophia A. McClennen is Professor of Comparative Literature, Spanish, and Women's Studies at the Pennsylvania State University, University Park, USA where she directs the Center for Global Studies and the graduate program in Comparative Literature.
Praise For America According to Colbert: Satire as Public Pedagogy (Education)…
"Colbert's America demonstrates that Colbert's work is also a form of public pedagogy, teaching his audiences to be distrustful of power and fools, and to view all politicians, pundits, and politics itself with mistrust. McClennen's well-written and documented study brilliantly illuminates the Colbert phenomenon and its importance for contemporary politics, journalism, and popular culture today." - Douglas Kellner, Professor, UCLA; author of Guys and Guns Amok and Media Spectacle and the Crisis of Democracy

"Colbert's America is beautifully readable and delightfully smart; rich in examples and conceptual frame. McClennen gives us a master class in the critical pedagogy of Colbert." - Geoffrey Baym, Associate Professor, Department of Media Studies, University of North Carolina Greensboro

"An always insightful and often delightful reading of the most sustained and successful exercise in political satire in modern American life. Stephen Colbert would no doubt agree - well, about all but the 'satire' part. Let the eagle soar!" - Geoffrey Nunberg, Adjunct Full Professor, School of Information, University of California at Berkeley