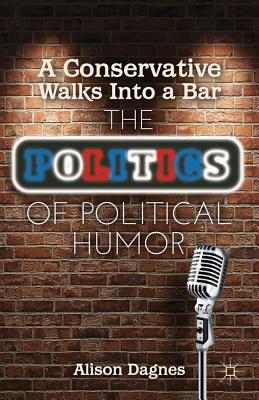 A Conservative Walks Into a Bar (Paperback)
The Politics of Political Humor
Palgrave MacMillan, 9781137262844, 239pp.
Publication Date: September 6, 2012
Other Editions of This Title:
Hardcover (9/6/2012)
* Individual store prices may vary.
Description
Conservative critics argue that modern political satire, in the age of The Daily Show, has a liberal bias. A quick review of the humor landscape shows that there are very few conservative political satirists, and using personal interviews with political humorists this book explains why. The book explores the history of satire, the comedy profession, and the nature of satire itself to examine why there is an ideological imbalance in political humor and it explores the consequences of this disparity. This book will appeal to Daily Show and Colbert fans, political junkies, and anyone interested in the intersection of politics and media.
About the Author
ALISON DAGNES is an Associate Professor of Political Science at Shippensburg University in Pennsylvania, USA. She is the author of Politics on Demand: The Effects of 24-Hour News on American Politics (2010) and she frequently speaks on the topic of the modern media. Dr. Dagnes has most recently edited a book on political sex scandals called Political Sex Scandals: A Multidisciplinary Approach. Her current research examines ideology and political satire. Prior to receiving her doctorate in Political Science from the University of Massachusetts at Amherst, Dr. Dagnes was a producer for C-SPAN in Washington, DC.
Praise For A Conservative Walks Into a Bar: The Politics of Political Humor…
"Alison Dagnes' new book A Conservative Walks into a Bar is an engaging and thoughtful analysis of political satire in America. Its unique focus on why there is so little satire on the political right raises broader questions about the connection between humor and American politics. Combining experiments with rich historical descriptions, Dagnes shows that while satire is largely a liberal phenomena, it is not necessarily prejudicial. Instead, satire should be viewed as a vitally important tool of political criticism and debate. This book does a wonderful job of contextualizing and assessing the current state of American political humor. Its a "must read" for anyone interested in American satire and political ideology." - Michael Parkin, associate professor of Politics, Oberlin College

"Impeccably researched, effectively argued, and overflowing with insight from practitioners of political humor, Dagnes digs deep, asserting that to truly understand why liberal satire dominates requires an understanding of the nature and purpose of satire; the financial imperatives of the entertainment industry; the liberal tradition; and an appreciation of how liberals and conservatives conceive, consume, and communicate humor. Dagnes has done it again: This brilliant, witty, necessary, evidence-based examination of our political humor and times is essential reading, and the perfect antidote to the instant-analysis impulses of our polarized era." - Kevan M.Yenerall, professor of Political Science, Clarion University, and co-author, Seeing the Bigger Picture: American and International Politics in Film and Popular Culture

"An engaging, enlightening, and entertaining read; this book is the most authoritative work on the nature of satire. It is also well balanced, and remarkably unbiased, considering it was written by a Liberal." - Tim Slagle, comedian

"In this well-documented study, the author seeks to defend contemporary liberal satirists and promoters of satire in the entertainment business from conservative charges of bias. Dagnes examines such programs as The Daily Show, The Colbert Report and Saturday Night Live, which contain jokes and sketches that have often been featured in the national political discussion. Perfect examples include SNL's treatment of Sarah Palin and Stephen Colbert's recent presidential campaign. Dagnes also discusses particular comedians, their writers and raw material, and she provides a wealth of helpful references, including personal interviews, literary sources, and TV performances. The author employs the evenhandedness of an academic sociological analysis, and she focuses mainly on the well-accepted, and –studied, divisions between liberals and conservatives..." - Kirkus