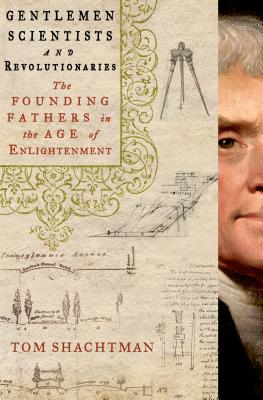 Gentlemen Scientists and Revolutionaries (Hardcover)
The Founding Fathers in the Age of Enlightenment
St. Martin's Press, 9781137278258, 272pp.
Publication Date: October 7, 2014
* Individual store prices may vary.
Description
A fresh exploration of the scientific pursuits of the Founding Fathers that reveals their science as critical to the great political "experiment" of the day
About the Author
Tom Shachtman is an author, filmmaker, and educator. He has written or co-authored more than thirty books, including Rumspringa, Airlift to America, and Terrors and Marvels, as well documentaries for ABC, CBS, NBC, and PBS, and has taught at major universities. Publishers Weekly lauded his book Rumspringa: To Be or Not to Be Amish as "not only one of the most absorbing books ever written about the Plain People, but a perceptive snapshot of the larger culture in which they live and move." He has written articles for The New York Times, Newsday, Smithsonian, and environmental monthlies, and writes a column for The Lakeville Journal (CT). A two-hour television documentary based on his book Absolute Zero and the Conquest of Cold was broadcast on PBS in February 2008.
Praise For Gentlemen Scientists and Revolutionaries: The Founding Fathers in the Age of Enlightenment…
"A well-researched, lively entry into the current debate about the role of science in a democracy." —Kirkus
"An intriguing survey of science's influence on the Founders." —Booklist
"We might hear as children about Ben Franklin with his kite and key in the thunderstorm, but this lively and learned book gives us the grown-up view of the Founders and their fascination with things scientific. Employing a large cast of colonial characters--Franklin, Washington, Jefferson, and other famous figures of the era, but also lesser-known thinkers and tinkerers--Tom Shachtman makes a compelling case that the American Revolution became a movement not only for political independence, but for scientific independence as well. Indeed, Shachtman shows us that the two can hardly be considered separable." —Greg Nobles, Professor of History, Georgia Institute of Technology, and co-author of Whose American Revolution Was It?
"This splendid book tells the eye-opening story of America's founding generation as first-class scientists. We know how they created the government of the United States. Here we learn much more--and what a story it is!" —Lee Dembart, former science book reviewer, Los Angeles Times
"Brilliant new book by Tom Shachtman: science as practiced by the Founding Fathers and their generation." —Charles Clark
or
Not Currently Available for Direct Purchase