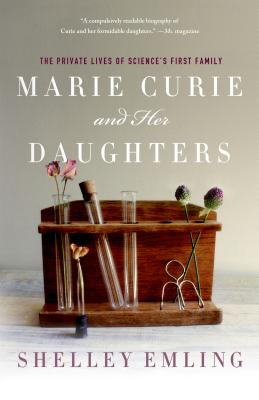 Marie Curie and Her Daughters
The Private Lives of Science's First Family
Paperback

* Individual store prices may vary.
Other Editions of This Title:
Hardcover (8/21/2012)
Description
Published to widespread acclaim, in Marie Curie and Her Daughters, science writer Shelley Emling shows that far from a shy introvert toiling away in her laboratory, the famed scientist and two-time Nobel prize winner was nothing short of an iconoclast. Emling draws on personal letters released by Curie's only granddaughter to show how Marie influenced her daughters yet let them blaze their own paths: Irene followed her mother's footsteps into science and was instrumental in the discovery of nuclear fission; Eve traveled the world as a foreign correspondent and then moved on to humanitarian missions. Emling also shows how Curie, following World War I, turned to America for help. Few people know about Curie's close friendship with American journalist Missy Meloney, who arranged speaking tours across the country for Marie, Eve, and Irene. Months on the road, charming audiences both large and small, endeared the Curies to American women and established a lifelong relationship with the United States that formed one of the strongest connections of Marie's life. Factually rich, personal, and original, this is an engrossing story about the most famous woman in science that rips the cover off the myth and reveals the real person, friend, and mother behind it.
Praise For Marie Curie and Her Daughters: The Private Lives of Science's First Family…
"Emling offers an intimate look at Curie's relationship with her children…[and a] fascinating, moving story… [with an] inspiring message conveyed throughout." —Carmela Ciuraru, The Boston Globe
"The story of the second act of the genius's life, as a widowed mother of two." —Harpers
"Emling delivers a compulsively readable biography of Curie and her formidable daughters." —Ms. magazine
"The often harrowing tale covers the great physicist's struggle with xenophobia and sexism, her mental and physical breakdowns, and the campaign by American journalist Missy Meloney to supply her with radium. Most compellingly, it bares Curie's relationships with her daughters, the Nobel prize-winning chemist Irène and writer Eve." —Nature
"Emling reveals a hidden side of the life of two-time Nobel Prize winner." —Publishers Weekly
"An intimate portrait of the professional and private lives of legendary scientist Marie Curie and her daughters, Irène and Eve… A uniquely human look at a brilliant scientific family." —Kirkus Reviews
"A new twist...bringing the story into the 21st century...Recommended." —Choice
"Shelley Emling makes an invaluable contribution to history by documenting the afteraffects of radiation and fame on this remarkable pioneer of the atom, a woman who sacrificed herself for the sake of deadly knowledge." —Tom Zoellner, author of Uranium: War, Energy and the Rock That Shaped the World
"Publicly glum and famously determined, Marie Curie struggled against the extraordinary prejudices of her time, and became an icon. In this engagingly delightful look behind the heavy skirts of the era, Shelley Emling reveals Marie's and her two disparate daughters' idiosyncratic family life, and especially the significant role that their visits to the United States played in their personal development." —Peter Atkins, author of Galileo's Finger
"Marie Curie and Her Daughters breathes life into an icon of science. Emling uses private letters, the unpublished papers of her daughter, Irene Curie, and an interview with her granddaughter Helene Langevin-Joliot to take the reader into Curie's role as the mother of two daughters, as a traveler to America and beyond, and as a woman in a man's world. If young women are looking for a real-life role model beside today's celebrities, this story will fill that niche." —Elizabeth Norman, author of We Band of Angels
"A book that should inspire all young women to go out and make things happen." —Frank Close, author of The Infinity Puzzle: Quantum Field Theory and the Hunt for an Orderly Universe
"Shelley Emling's dazzling chronicle of the three Curies and their world famous accomplishments is surpassed only by her account of how each stretched her era's concept of the possibilities for women. A tour de force!" —Megan McKinney, author of The Magnificent Medills
"Ms. Emling's riveting new biography reveals in page-turning prose the life-balance struggles of a true genius. It's a tip of the hat to the private Marie, the single working mother, whose many accomplishments include her two amazing daughters." —Lisa Verge Higgins, New York Journal of Books
"Shelley Emling's excellent joint biography of Marie, her daughters (and a granddaughter, too) is an exhilarating story that couples scientific discovery and motherhood. A book that should propel young women into science for the sheer fun of it, it's also a rich tale of war and peace, family commitment, friendship and medical progress." —Adele Glimm, author of Gene Hunter and Rachel Carson
"A must read for every woman and every female teenager. In accessible prose, Emling enlightens the world about this enigmatic scientist, and, with the help of personal letters shared by Curie's granddaughter, Emling has woven a story of a woman full of grace and of the daughters who loved her without fail. I loved this book." —Mary H. Manhein, author of The Bone Lady and Trail of Bones
St. Martin's Griffin, 9781137278364, 256pp.
Publication Date: September 10, 2013
About the Author
Shelley Emling is a senior editor at The Huffington Post and, as a journalist for more than twenty years, her work, including science articles, has previously appeared in such outlets as The New York Times, Fortune, Slate, The Wall Street Journal, The Times, The Boston Globe, The Huffington Post, The Christian Science Monitor, and FoxNews.com. She covered Europe for six years for Cox Newspapers, a chain of 17 daily newspapers across the United States that includes The Atlanta Journal Constitution. She launched one of the first blogs for The International Herald Tribune, called 'Raising the Roof.' She lives in Montclair, New Jersey.