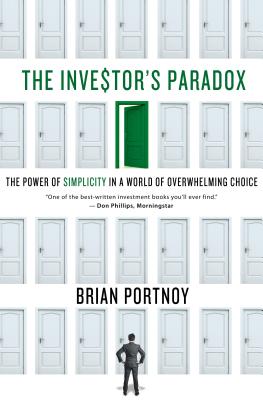 The Investor's Paradox (Hardcover)
The Power of Simplicity in a World of Overwhelming Choice
St. Martin's Press, 9781137278487, 256pp.
Publication Date: January 7, 2014
Other Editions of This Title:
Digital Audiobook (2/6/2014)
* Individual store prices may vary.
Description
Investors are in a jam. A troubled global economy, unpredictable markets, and a bewildering number of investment choices create a dangerous landscape for individual and institutional investors alike. To meet this challenge, most of us rely on a portfolio of fund managers to take risk on our behalves. Here, investment expert Brian Portnoy delivers a powerful framework for choosing the right ones – and avoiding the losers.
Portnoy reveals that the right answers are found by confronting our own subconscious biases and behavioral quirks. A paradox we all face is the natural desire for more choice in our lives, yet the more we have, the less satisfied we become – whether we're at the grocery store, choosing doctors, or flipping through hundreds of TV channels. So, too, with investing, where there are literally tens of thousands of funds from which to choose. Hence "the investor's paradox": We crave abundant investment choices to conquer volatile markets, yet with greater flexibility, the more overwhelmed and less empowered we become.
Leveraging the fresh insights of behavioral economics, Portnoy demystifies the opaque world of elite hedge funds, addresses the limits of mass market mutual funds, and discards the false dichotomy between "traditional" and "alternative" investments. He also explores why hedge funds have recently become such a controversial and disruptive force. Turns out it's not the splashy headlines – spectacular trades, newly minted billionaires, aggressive tactics – but something much more fundamental. The stratospheric rise to prominence and availability of alternative strategies represents a further explosion in the size and complexity of the choice set in a market already saturated with products. It constitutes something we all both crave and detest.
The Investor's Paradox lights a path toward simplicity in a world of dangerous markets and overwhelming choice. Written in accessible, jargon-free language, with a healthy skepticism of today's money management industry, it offers not only practical tools for investment success but also a message of empowerment for investors drowning in possibility.
About the Author
Brian Portnoy is Managing Director and Head of Alternatives and Strategic Initiatives at Chicago Equity Partners. He is the author of The Investor's Paradox. He has spoken at numerous investing conferences across the U.S., Europe, and Asia, has appeared frequently on CNBC and CNN, and has been quoted in major publications, including the Wall Street Journal and the New York Times. Portnoy is the founder of NorthCenter Capital Advisors, and has previously held positions as the Portfolio Manager of the Vestian Core Fund and Associate Head of Research at Mesirow Advanced Strategies. He has received grants from the MacArthur Foundation and he was also the recipient of the University of Chicago's prestigious Century Fellowship. Across the U.S. and Europe, Brian taught and lectured on numerous topics, ranging from classic political economy to the current challenges of globalization. At the University of Chicago, he served for two years as the coordinator of the prestigious Program on International Politics, Economics, and Security. He lives in Chicago, IL.
Praise For The Investor's Paradox: The Power of Simplicity in a World of Overwhelming Choice…
"There are a dozen or so classic books on picking stocks, a task relatively few individual investors do today. In contrast, there have been no great texts--until now--explaining how to pick fund managers, a task almost every investor, from the richest hedge fund buyer to the smallest 401(k) participant is tasked with doing. Brian Portnoy has produced the first great text on picking fund managers. It not only includes decades worth of valuable insights, it's also one of the best written investment books you'll ever find." —Don Phillips, Morningstar
"The Investor's Paradox is totally original, thoroughly engaging, and remarkably well written. It must be considered an important contribution to the literature on how we make decisions about investments in the real world. This book is consistently insightful and often entertaining, offering many examples based on Portnoy's broad experiences. Novice and expert investors alike should take heed of Portnoy's major accomplishment." —Emmanuel Roman, CEO, Man Group
"The investment bookshelves are littered with recommendations on picking stocks and allocating assets. The Investors' Paradox addresses the far more relevant topic of manager selection, and it does this superbly. Building from his deep understanding of human behavioral biases, Portnoy's structured approach to evaluating skill cuts through the noise of past performance and marketing materials to deliver a clear and creative framework for choosing investment advisors. Also a gifted writer, Portnoy has written a classic. Highly recommended for anyone making investment decisions." —Mark Carhart, Chief Investment Officer, Kepos Capital
"The Investor's Paradox has arrived at just the right time. We face an unprecedented amount of choice in implementing investment strategies, and this insightful book helps filter out the noise to home in on what matters when making these critical decisions, whether you are a sophisticated allocator or an individual investor. I can't think of a better book on how to choose the best investment experts." —Ted Seides, Co-Chief Investment Officer and President, Protege Partners
"The Investor's Paradox... demystifies the opaque world of hedge funds. Portnoy offers practical advice on the limits of mass-market mutual funds and the false dichotomy between "traditional" - long-only mutual funds - and "alternative" investments such as hedge funds." —The Philadelphia Enquirer