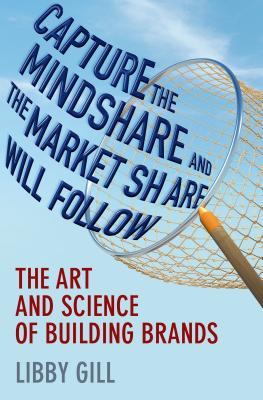 Capture the Mindshare and the Market Share Will Follow (Hardcover)
The Art and Science of Building Brands
Palgrave MacMillan, 9781137278517, 234pp.
Publication Date: August 6, 2013
* Individual store prices may vary.
Description
Capture the Mindshare and the Market Share Will Follow reveals how strong branding creates awareness, provides authentic value, motivates others to act, and builds long-term customer loyalty based on trust and respect. Author Libby Gill helps businesses define and articulate their unique brand promise by exploring case studies and client success stories to help readers master the Six Core Mindshare Methods, including concepts to Clarify, Commit, Collaborate, Connect, Communicate, and Contribute.Readers will see their relationships deepen, opportunities expand, and careers flourish as they learn to differentiate themselves in a competitive environment by promising and delivering massive value.
About the Author
Libby Gill is an internationally respected executive coach, brand strategist, and bestselling author. Libby works with top companies to help them successfully position their leaders, business, and brands including Nike, Disney, Kellogg, Oracle, PayPal, Royal Caribbean Cruise Lines, and more.Libby is a frequent TV and radio guest offering expert opinions and guidance on brand strategy and professional development. She has appeared on the Today show, Dr. Phil, CNN, NPR, Oprah & Friends Radio, and many more. She lives in Los Angeles, California.
Praise For Capture the Mindshare and the Market Share Will Follow: The Art and Science of Building Brands…
"Capture the Mindshare and the Market Share Will Follow is an insightful, 360-degree book on the next generation of branding, exploring all the key ingredients you'll need to craft a truly amazing 'mindshare' brand." —Martin Lindstrom, Branding Expert and bestselling author of Buyology and Brandwashed
"A terrific step-by-step guide for anyone starting or looking to grow their business. Gill lays out the necessary ingredients to craft a brand that resonates with its target and gets noticed - in the right way." —Heather Wilson, Executive Vice President & Corporate Group Director, Ogilvy Public Relations
"Gill skillfully sums up the intricate connection between innovative business practices that drive organizational success and the human characteristics that create an engaged and inspired workforce. A must-read for any professional." —Andrew J. Kaplan, President, Worldwide Networks, Sony Pictures Television
"This wonderful book gets to the heart of your branding and gives you the tools to build lasting fame. Libby Gill takes you into your customer's mind and keeps you there with excellence." —Joseph and JoAnn Callaway, authors of the New York Times bestseller Clients First: The Two Word Miracle
"There isn't, or shouldn't be, a marketer among us who does not search for the emotional connection between their Brand and their Consumer. This book deciphers the emotional state to get you to the treasure of a true and lasting connection with your consumer." —Dan Ginsberg, CEO, Dermalogica
"Gill has captured in plain language what we all know.. to build market share you need to capture people's hearts and minds. If you want to build your brand and increase market share, you have to read this book!" —Chester Elton, New York Times bestselling author of The Carrot Principle and All In
"This book is a phenomenal road map. Each step provides a great working block for building powerful and sustainable brands." —Said Aghil Baaghil, Brand Marketing Consultant & Author of The Power of Belonging
"A clear, easy-to-understand blueprint on building a brand that will make your company stand out from the crowd." —Veronique Poty, International Business Developer, Northern France Chamber of Commerce
"Building and maintaining a reputable brand is rarely a lucky, shot-in-the-dark phenomenon—rather it stems from earning the genuine trust and confidence of both customers and colleagues. In this remarkable book, Capture the Mindshare and the Market Share Will Follow, branding expert Libby Gill uses her extraordinary experience and know-how, along with her Seven Core Mindshare Methods, to show you how to effectively shape your brand into something that thrives and endures as well as adds unique value to the marketplace." --Stephen M. R. Covey, New York Times bestselling author of The Speed of Trust and Smart Trust