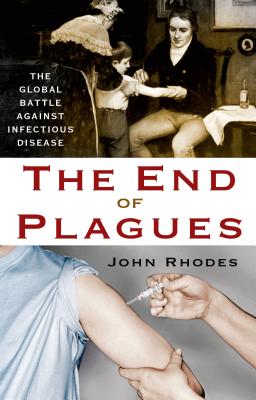 The End of Plagues (Hardcover)
The Global Battle Against Infectious Disease (MacSci)
St. Martin's Press, 9781137278524, 256pp.
Publication Date: September 24, 2013
* Individual store prices may vary.
Description
At the turn of the twentieth century, smallpox claimed the lives of two million people per year. By 1979, the disease had been eradicated and victory was declared across the globe. Yet the story of smallpox remains the exception, as today a host of deadly contagions, from polio to AIDS, continue to threaten human health around the world. Spanning three centuries, The End of Plagues weaves together the discovery of vaccination, the birth and growth of immunology, and the fight to eradicate the world's most feared diseases. From Edward Jenner's discovery of vaccination in 1796, to the early nineteenth-century foundling voyages in which chains of orphans, vaccinated one by one, were sent to colonies around the globe, to the development of polio vaccines and the stockpiling of smallpox as a biological weapon in the Cold War, world-renown immunologist John Rhodes charts our fight against these plagues, and shows how vaccinations gave humanity the upper hand. Today, aid groups including the Bill and Melinda Gates Foundation and the World Health Organization have made the eradication of polio a priority, and Rhodes takes us behind the scenes to witness how soon we may be celebrating the eradication of polio.
About the Author
John Rhodes is an international expert in immunology and vaccine discovery, and has held research fellowships at the US National Institutes of Health and the University of Cambridge. He is the author of The End of Plagues. From 2001 to 2007 he was director of strategy in immunology at GlaxoSmithKline, a leading multinational healthcare company. He is a fellow of the Royal College of Pathologists, has served on UK government international vaccine missions and published numerous articles in leading journals such as Nature, Science and the Lancet.  He lives and works in Cambridge, UK.
Praise For The End of Plagues: The Global Battle Against Infectious Disease (MacSci)…
"An engaging and expansive exploration of humankind's quest to defend itself against disease." —History Today
"The historical tale of vaccination and the extraordinary achievements that have come from its implementation…this is a fascinating book." —Cosmos Magazine
"An optimistic history of vaccinations and their underlying science…Rhodes also looks at vaccinations against tuberculosis and flu, HIV and malaria…the science behind these limited successes makes for some of the best chapters in the book, which is especially impressive given the difficulty of making immunology accessible to the lay reader" —Times Higher Education
"The remarkably clear voice of immunologist John Rhodes takes us through significant moments in man's battle against infectious disease… excellent and captivating." —The Book Bag
"The End of Plagues is a fascinating book and well worth a read for anyone interested in the history of medicine." —LSE Review of Books