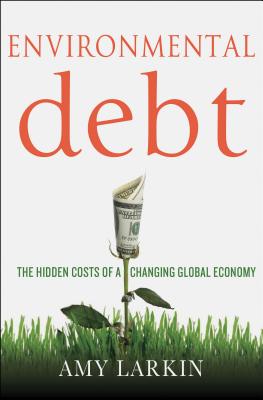 Environmental Debt: The Hidden Costs of a Changing Global Economy (Hardcover)
The Hidden Costs of a Changing Global Economy
Palgrave MacMillan, 9781137278555, 244pp.
Publication Date: June 25, 2013
* Individual store prices may vary.
or
Not Currently Available for Direct Purchase
Description
An award-winning environmental activist and social entrepreneur exposes the link between our financial and environmental crises

For decades, politicians and business leaders alike told the American public that today's challenge was growing the economy, and that environmental protection could be left to future generations. Now in the wake of billions of dollars in costs associated with coastal devastation from Hurricane Sandy, rampant wildfires across the West, and groundwater contamination from reckless drilling, it's becoming increasingly clear that yesterday's carefree attitude about the environment has morphed into a fiscal crisis of epic proportions.
Amy Larkin has been at the forefront of the fight for the environment for years, and in "Environmental Debt" she argues that the costs of global warming, extreme weather, pollution and other forms of "environmental debt" are wreaking havoc on the economy. Synthesizing complex ideas, she pulls back the curtain on some of the biggest cultural touchstones of the environmental debate, revealing how, for instance, despite coal's relative fame as a "cheap" energy source, ordinary Americans pay $350 billion a year for coal's damage in business related expenses, polluted watersheds, and in healthcare costs. And the problem stretches far beyond our borders: deforestation from twenty years ago in Thailand caused catastrophic flooding in 2011, and cost Toyota 3.4 percent of its annual production while causing tens of thousands of workers to lose jobs in three different countries.
To combat these trends, Larkin proposes a new framework for 21st century commerce, based on three principles: 1) Pollution can no longer be free; 2) All business decision making and accounting must incorporate the long view; and 3) Government must play a vital role in catalyzing clean technology and growth while preventing environmental destruction. As companies and nations struggle to strategize in the face of global financial debt, many businesses have begun to recognize the causal relationship between a degraded environment and a degraded bottom line. Profiling the multinational corporations that are transforming their operations with downright radical initiatives, Larkin presents smart policy choices that would actually unleash these business solutions to many global financial and environmental problems.
Provocative and hard-hitting, "Environmental Debt" sweeps aside the false choices of today's environmental debate, and shows how to revitalize the economy through nature's bounty.
About the Author
Amy Larkin works with multinational corporations on transformative initiatives through her consulting firm Nature Means Business and serves as Vice Chair of the World Economic Forum's Global Agenda Council on Climate Change. She partners with RESOLVE convening discordant parties from business, government, and civil society to revamp public policy so it better serves our 21st-century global economy. For many years, Larkin led Greenpeace Solutions and collaborated on surprising and high-impact corporate technology revolutions for which Greenpeace and several corporations received Harvard's Roy Award for Public/Private Partnerships that protect natural resources. She is a regular contributor to the Guardian Sustainable Business and the chair of Biomimicry NYC.
Praise For Environmental Debt: The Hidden Costs of a Changing Global Economy…
"For anyone interested in environmental and economic policy, this is a fascinating, provocative book. Brisk, bold, and blunt, Larkin is a devastating critic of current business practices, but she wants to inspire, not scold."--Publishers Weekly
"Environmental Debt expertly connects the two big systems we all depend on -- financial and ecological -- and shows that they're completely intertwined -- one cannot succeed without the other.  Larkin is uniquely positioned to bridge the gap and map out a plan to make both systems stronger.--Andrew Winston, coauthor of Green to Gold
"Humankind's days of pillaging the earth for its resources are over. Today, a new strategy is needed if the global economy is to survive. Larkin's three guiding principles for 21st century commerce are required reading for anyone invested in a thriving business landscape as well as a healthy environment." --Kumi Naidoo, Executive Director, Greenpeace International
"Amy Larkin sounds the alarm of the coming economic crisis and calls for urgent actions to repair our relationship with nature. A committed environmentalist, she also knows firsthand how the business world gets real work done, and argues for pragmatism and common sense to undo environmental harm and re-make the future. As a business person and industrialist my entire career, I support Environmental Debt as part of an inclusive and well-rounded roadmap to make the world a better place."--John Hofmeister, retired President Shell Oil Company, founder/CEO Citizens for Affordable Energy, and author of Why We Hate the Oil Companies
"This book has an important message--pollution is not free. If the polluters do not pay the cost, others do in the form of increases in health costs, loss of property values, higher insurance rates and damages to crops, materials and public infrastructure. As fossil fuel consumption grows, these costs will mount. Regardless of one's political bent or world view, one cannot ignore Amy Larkin's powerful premise that putting a price on pollution--both carbon and conventional--will dramatically accelerate the transition to the cleaner energy systems that our world will need in the decades ahead."--Henry Lee is the Jassim M. Jaidah Family Director of the Environment and Natural Resources Program within the Belfer Center for Science and International Affairs at Harvard's John F. Kennedy School of Government
"Larkin offers a comprehensive framework to connect the causes of these crises to ensure businesses are not derailed by environmental problems." -- The Irish Times
Advertisement