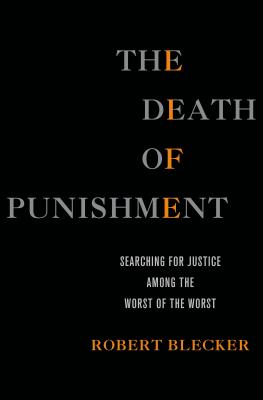 The Death of Punishment (Hardcover)
Searching for Justice among the Worst of the Worst
St. Martin's Press, 9781137278562, 320pp.
Publication Date: November 19, 2013
* Individual store prices may vary.
Description
For twelve years Robert Blecker, a criminal law professor, wandered freely inside Lorton Central Prison, armed only with cigarettes and a tape recorder. The Death of Punishment tests legal philosophy against the reality and wisdom of street criminals and their guards. Some killers' poignant circumstances should lead us to mercy; others show clearly why they should die. After thousands of hours over twenty-five years inside maximum security prisons and on death rows in seven states, the history and philosophy professor exposes the perversity of justice: Inside prison, ironically, it's nobody's job to punish. Thus the worst criminals often live the best lives.
The Death of Punishment challenges the reader to refine deeply held beliefs on life and death as punishment that flare up with every news story of a heinous crime. It argues that society must redesign life and death in prison to make the punishment more nearly fit the crime. It closes with the final irony: If we make prison the punishment it should be, we may well abolish the very death penalty justice now requires.
About the Author
Robert Blecker is a professor at New York Law School, a nationally known expert on the death penalty, and the subject of the documentary "Robert Blecker Wants Me Dead."  He formerly prosecuted corruption in New York's criminal justice system as a Special Assistant Attorney General and has been the sole keynote speaker supporting the death penalty at several major national and international conferences.  A post-graduate Harvard fellow in Law and Humanities, Blecker wrote a stage play "Vote NO!"  which premiered at the Kennedy Center.  Profiled by the New York Times and Washington Post, the subject of a USA Today cover story, and recently featured on ABC Nightline,  Blecker frequently comments for national media, including the New York Times, PBS, CNN and BBC World News.  He lives in New York.
Praise For The Death of Punishment: Searching for Justice among the Worst of the Worst…
"An informative and often gripping read…Blecker's descriptions of life and leisure for brutal killers will move many to outrage." —RealClearPolitics
"Blecker's argument that prison needs to be more punishing is thought-provoking. Also fascinating is the way in which the author's interactions with prisoners force him to confront his own beliefs…Blecker has shown us that the problem of how a civilized society deals with monstrous behaviour is as difficult as ever." —Asia Times
"Written in a breezy, conversational style, the [book] contains Blecker's commentary about the administration of punishment and his conversations with prisoners about it. This is a valuable addition to the literature, written for a popular audience." —Library Journal
"Arresting fusion of memoir and jeremiad, arguing for a punitive approach toward the worst perpetrators of social violence, amid a general overhaul of attitudes toward criminality... While many will dismiss his viewpoint, Blecker presents a strong case with legalistic rigor on some of the darkest questions facing society." —Kirkus Reviews
"A truly remarkable and deeply moral book -- an eloquent, unsparing, often counterintuitive, and sometimes painful meditation on why, whom, and how a decent society should decide to punish, and what those questions can teach us about universal truths of morality and justice. A philosophically and legally sophisticated page-turner is a rare thing to behold, but Robert Blecker has produced just that. If you think you already know what you believe about the death penalty, think again and read this book. If you care deeply about questions of right and wrong, read it twice." —Laurence H. Tribe, University Professor and Professor of Constitutional Law, Harvard Law School, and author of The Invisible Constitution and American Constitutional Law
"Robert Blecker is probably the most articulate death penalty supporter around, and easily the most honest. His argument is one that any death penalty supporter will identify with, but more importantly, it's one any opponent must answer." —David Dow, founder of Texas Innocence Network, author of Autobiography of an Execution
"A seamless blend of the writings of the Ancients, modern law and practice, and rich personal insights, The Death of Punishment is a beautifully written, passionate, principled, and provocative exploration of issues that nestle at the heart of the meaning of justice. This important volume demands the attention of friends and foes of capital punishment alike, and of anyone willing to grapple seriously with questions that are at once timeless and timely." —James R. Acker, Distinguished Teaching Professor, University at Albany, Editor of America's Experiment with Capital Punishment
"A fascinating tour behind the walls of prisons and through the minds of murderers. Along the way, Blecker demonstrates why life in prison is not enough punishment for the worst of the worst." —Kent Scheidegger, Legal Director, The Criminal Justice Legal Foundation
"A remarkable book—eloquent, passionately argued, and disturbing in its clarion call for more punishment in prison and more pain in the death house.  No one can read this book and not be deeply affected by it. Serious students of crime and punishment must face and respond
to Blecker's provocative and engaging work." —Robert Johnson, Professor of Justice, Law and Society, American University, Author of Death Work
"A refreshing source of intellectual honesty in his treatment of punishment in America, Blecker has performed a public service by forcing Americans to confront that for many of the most hardened offenders, hard time is anything but." —Michael Welner, M.D., Founder & Chairman, The Forensic Panel, Creator of the Depravity Scale
"Blecker is a fearless iconoclast, whose remarkable intellect has taken him places most avoid ever treading. This truly gripping and very personal journey to seek justice spans 3000 years of history and philosophy. A fascinating journey that will challenge thinking readers to re-examine their concept of true justice." —Joshua Marquis, elected District Attorney of Astoria, Oregon, co-author of Debating the Death Penalty
or
Not Currently Available for Direct Purchase