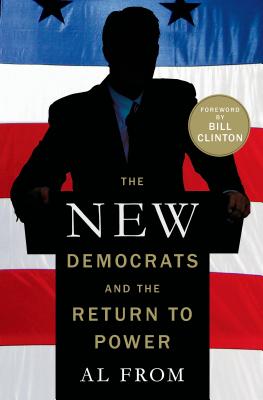 The New Democrats and the Return to Power (Hardcover)
St. Martin's Press, 9781137278647, 288pp.
Publication Date: December 3, 2013
Other Editions of This Title:
Paperback (12/2/2014)
* Individual store prices may vary.
Description
After Barack Obama's solid win in the 2012 election, it's easy to forget that there was a time, not long ago, when the Democrats were shut out of power for over a decade. But Al From remembers. In 1984, he led a small band of governors, US senators, and members of Congress to organize the Democratic Leadership Council (DLC). Their mission: to rescue the party from the political wilderness, redefine its message, and, most importantly, win presidential elections. In April 1989, From traveled to Little Rock, Arkansas, to recruit the state's young governor, Bill Clinton, to be chairman of the DLC. Here, Al From explores the founding philosophy of the New Democrats, which not only achieved stunning validation during Clinton's two terms, but also became the model for resurgent center-left parties in Europe and throughout the democratic world. Here, he outlines for the first time the principles at the heart of the movement, including economic centrism, national security, and entitlement reform, and why they are vital to the success of the Democratic Party in the years ahead.
About the Author
Al From is founder of the Democratic Leadership Council. Called a "legislative genius" by Washingtonian Magazine, From played a prominent role in the 1992 election of President Bill Clinton and served as Domestic Policy Advisor to the Clinton transition. Before founding the DLC in 1985, From was executive director of the House Democratic Caucus, served in President Jimmy Carter's White House, and was staff director of the US Senate Subcommittee on Intergovernmental Relations. He is the author of The New Democrats and the Return to Power.
Praise For The New Democrats and the Return to Power…
"[A] page-turning and important history. Continuing to follow the three core principles of the DLC -- opportunity, responsibility and community -- remains the Democratic Party's best hope for maintaining and expanding upon the Clinton-Obama middle-class-based winning coalition in the months and years ahead." —Huffington Post
"Al From's The New Democrats and the Return to Power tells the important story of how a political party in trouble can reinvent itself and regain power…a thorough account of the successful effort to pull the Democratic Party toward the political center. The book is particularly timely because the Republican Party's leadership has set a goal of broadening its appeal after losing the last two presidential elections. And the Democrats will need to look closely at their political direction after President Barack Obama, with his unique coalition of supporters, leaves the White House." —Associated Press
"In ushering in the new political era…Al From was the strategist, crafting practical memos for politicians on how to gain power." —Washington Monthly
"A well-detailed guide to the organizational and philosophical workings of one successful political strategy." —Kirkus Reviews
"It would be hard to think of a single American citizen who, as a private citizen, has had a more positive impact on the progress of American life in the past 25 years than Al From." —Bill Clinton
"Al From redefined centrist politics and provided the ideas and organization to move the Democrats from opposition to government, showing progressives across the world how to be principled, modern and in power." —Tony Blair, former prime minister of the United Kingdom
"I always wished I could be as smart as Al, and this book shows why. He shows what it was really like to be present at the creation of a movement that would take the Democrats from the wilderness to the White House, forever changing the course of American political history. This is a book about ideas as much as the people who forged them into a winning strategy, and it should be read, re-read and underlined by anyone who wants to know what it takes to be successful in American politics today." —Rahm Emanuel, Mayor of Chicago and former White House Chief of Staff
" This book is not only a fascinating and underreported slice of political history, but a reminder of the core principles that still drive Democratic success today -- and why it's important that we constantly work to further to them." —Martin O'Malley, Governor of Maryland
"Before 1992, the Democratic Party had moved too far to the left to win national elections. Too little credit is given to Al From, whose book tells the story of how he helped move his party back toward the common sense center." —Haley Barbour, former governor of Mississippi
"The American business community owes a big debt of gratitude to Al From. With vision and persistence he helped lead a major political party back to the principles of private sector growth, trade, jobs, personal responsibility, and fiscal stability. This book proves that the political center can win politically and govern effectively. Both parties -- and the American people -- would be wise to learn from Al's inspiring story." —Thomas J. Donohue, President & CEO, U.S. Chamber of Commerce
or
Not Currently Available for Direct Purchase