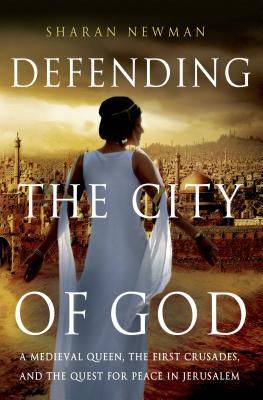 Defending the City of God (Hardcover)
A Medieval Queen, the First Crusades, and the Quest for Peace in Jerusalem
St. Martin's Press, 9781137278654, 272pp.
Publication Date: April 29, 2014
* Individual store prices may vary.
Description
Jerusalem sits at the crossroads of three continents and has been continuously invaded for millennia. Yet, in the middle of one of the region's most violent eras, the Crusades, an amazing multicultural world was forming. Templar knights, Muslim peasants, Turkish caliphs, Jewish merchants, and the native Christians, along with the children of the first crusaders, blended cultures while struggling to survive in a land constantly at war.
Defending the City of God explores this fascinating and forgotten world, and how a group of sisters, daughters of the King of Jerusalem, whose supporters included Grand Masters of the Templars and Armenian clerics, held together the fragile treaties, understandings, and marriages that allowed for relative peace among the many different factions. As the crusaders fought to maintain their conquests, these relationships quickly unraveled, and the religious and cultural diversity was lost as hardline factions took over.
Weaving together the political intrigues and dynastic battles that transformed the Near East with an evocative portrait of medieval Jerusalem, this is an astonishing look at a forgotten side of the first Crusades.
About the Author
Sharan Newman is a medieval historian and author. She took her Master's degree in Medieval Literature at Michigan State University and then did her doctoral work at the University of California at Santa Barbara in Medieval Studies, specializing in twelfth-century France. She is a member of the Medieval Academy and the Medieval Association of the Pacific.
Rather than teach, Newman chose to use her education to write novels set in the Middle Ages, including three Arthurian fantasies and ten mysteries set in twelfth-century France, featuring Catherine LeVendeur, a one-time student of Heloise at the Paraclete; her husband, Edgar, an Anglo-Scot; and Solomon, a Jewish merchant of Paris.  The books focus on the life of the bourgeoisie and minor nobility and also the uneasy relations between Christians and Jews at that time. They also incorporate events of the twelfth-century such as the Second Crusade and the rise of the Cathars.
The Catherine Levendeur mysteries have been nominated for many awards. Sharan won the Macavity Award for best first mystery for Death Comes As Epiphany and the Herodotus Award for best historical mystery of 1998 for Cursed in the Blood. The most recent book in the series The Witch in the Well won the Bruce Alexander award for best Historical mystery of 2004.
Just for a change, her next mystery, The Shanghai Tunnel, is set in Portland in 1868. 
Newman has also written non-fiction books, including The Real History Behind the Da Vince Code (Berkley 2005) and the upcoming Real History Behind the Templars.
Newman lives on a mountainside in Oregon.
Praise For Defending the City of God: A Medieval Queen, the First Crusades, and the Quest for Peace in Jerusalem…
"Newman… takes readers to the 12th century Near East, where European Crusaders clashed with Muslim denizens over the territory, with sacred Jerusalem at its center ruled by the dynasty of controversial Queen Melisende." —Publishers Weekly
"This book is an intriguing and full account of the early crusades with a well-balanced emphasis on the role of women in the states that the crusaders created in the Holy Land. It is a lively story told on the basis of thorough and up-to-date research. The star is Melisende, Queen of the Crusader Kingdom of Jerusalem and a woman whose wisdom and power are all the more remarkable for the fact that the crusaders, once established, quarreled and fought amongst themselves. The supporting cast includes the other important women in the crusading states as well as the men who doomed them by their irrepressible internecine wars. The reader looks forward to hearing more about Melisende." —Professor Jeffrey Burton Russell, University of California Santa Barbara
"Take a gifted writer-historian, a strong-willed medieval queen, and the result is a biography that is as impossible to put down as the most suspenseful novel." —Sharon Kay Penman, New York Times Bestselling author of Lionheart
"This is an amazing study of an amazing woman in amazing times---the Kingdom of Jerusalem in the Crusades, a lost world that continues to intrigue us. Using every scrap of surviving evidence, Sharan Newman pieces together a detailed life and times of the remarkable Queen Melisende who ruled the Crusader prize city, Jerusalem, in her own right in the mid-1100s. Long a staple of romantic legend, Melisende emerges here as a genuine historic presence." —Margaret George, author of The Memoirs of Cleopatra
"With her impressive narrative drive, Sharan Newman here invites us to consider attempts by the "Franks" to forge new Christian societies in the disputed Holy Lands of the Near East during the twelfth century. In spite of exhausting endless warfare in the region--sometimes among and sometimes between different ethnic and religious groups--hereditary female power was briefly a norm. Using every possible historical record, Newman focuses a strong light on Queen Melisende as daughter, wife, mother, sponsor, and (mostly) as a moderate and independent ruler. This book is a fine historical achievement, an absolute "must read" for all of us worried about the misery of the Near East then and now. Grieve for Aleppo!" —Bonnie Wheeler, Southern Methodist University, series editor, The New Middle Ages
or
Not Currently Available for Direct Purchase