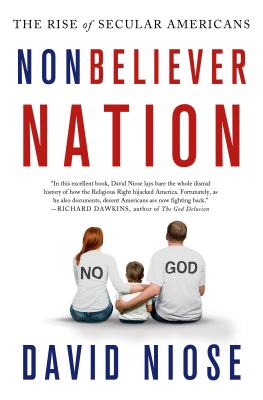 Nonbeliever Nation
The Rise of Secular Americans
Paperback

* Individual store prices may vary.
Other Editions of This Title:
Hardcover (7/17/2012)
Description
Today, one in five Americans are nonbelievers—a rapidly growing group at a time when traditional Christian churches are dwindling in numbers. Still we see almost none of them openly serving in elected office, while Mitt Romney, Rick Santorum, and many others continue to loudly proclaim the falsehood of America as a Christian nation. In Nonbeliever Nation, leading secular advocate David Niose calls for nonreligious Americans from all backgrounds to step out of the shadows and signal their opposition to the long-dominant Religious Right. Exploring all the hot-button issues that divide the country—from gay marriage to education policy to contentious church-state battles—he shows how Secular Americans—a group comprised not just of atheists and agnostics, but lapsed Catholics, secular Jews, and millions of others who have walked away from organized religion—are mobilizing and forming groups all over the country (even atheist clubs in Bible-belt high schools) to challenge the exaltation of religion in American politics and public life. This is a timely and important look at a growing demographic that is flexing its muscles for the first time.
Praise For Nonbeliever Nation: The Rise of Secular Americans…
"[A] passionate, occasionally incendiary call for a secular response to the swelling influence of Christian conservatives." —The Boston Globe
"This excellent book is simultaneously disturbing and reassuring. David Niose lays bare the whole dismal history of how the Religious Right hijacked America and betrayed the secular intentions of the Founding Fathers. Fortunately, as he also documents, decent Americans are now fighting back, and the book ends on an uplifting note of hope." —Richard Dawkins, author of The God Delusion
"A powerful, hard-hitting book, part history, part politics, part religion (and non-religion) and also a manifesto for a secular America. It is a perfect accompaniment for the battle being waged today for America's future by a moderate Barack Obama against all the weight the Religious Right can bring to bear. I highly recommend Nonbeliever Nation and am confident that it will satisfy a longing in others that it has satisfied in myself: for somebody to stand up and take their place in front of us with that precious candle that illuminates and holds back the darkness of superstition. We no longer have Carl Sagan, but we do have David Niose." —Politicus
"An excellent overview…Niose communicates a sizable amount of complex information without overloading readers…The good news: secular Americans are emerging. Activism is on the rise, people are identifying and organizing in order to influence sound policy, and student activism especially is growing by leaps and bounds." —Skeptic magazine
"Niose has done the secular movement a wonderful service by laying out [how it] has the power to steer political discourse back towards evidence and reason." —August Brunsman, Executive Director of the Secular Student Alliance, for The Friendly Athiest blog
"Required reading for seculars." —Free Inquiry Magazine
"A thorough examination of modern secular movements in America . . . A useful examination of secularism." —Kirkus Reviews
"Niose explores secularism's extraordinary rise and shows how it offers hope for more rational, inquiry-based public policy and discussion." —Publishers Weekly
"Covering a wide range of territory in a reasonably condensed space, attorney Niose looks at the culture wars from the perspective of secular America. While confronting numerous commonly held misconceptions by believers about secularism (e.g., the religious Right implying that religious faith is part of patriotism), Niose admirably refrains from antireligious hostility, striving for equality rather than proving the superiority of his perspective. . . . This is a calm, informative, and positive portrait of the rapidly growing secular segment of the American population. Highly recommended for politically oriented readers of all religious persuasions." —Library Journal
"David Niose is a leading advocate for America's secular movement. In Nonbeliever Nation, he demonstrates not only that America's secular demographic is more numerous and better organized than ever, but that this segment of society offers much hope for rational public policy and discourse." —Steven Pinker, Harvard College Professor of Psychology at Harvard University and the author of The Better Angels of our Nature
"In the long moral arc of the universe that has been bending toward justice, freedom, and prosperity for centuries, the last of the great civil rights revolutions is under way--the civil liberties for secularists, atheists, agnostics, skeptics, and nonbelievers of all stripes. David Niose has outlined the blueprint of this revolution in his powerful call to ideas that can change the world. Nonbeliever Nation is The Feminist Mystique of this movement, destined to be a classic in freedom literature." —Michael Shermer, Publisher of Skeptic magazine and author of The Believing Brain
"Using solid research, David Niose reminds us that the United States is by no means a religious nation let alone a Christian one-- nor was it ever intended to be. Citing dozens of compelling examples, he lays bare the stunning hypocrisy of religious leaders in the United States. Despite religious claims to the contrary, he clearly correlates our degrading environment, low science literacy, and relatively high crime rate… with religion. His message builds and urges us nonbelievers to promote a thoughtful worldview. He shows that saying you're religious– and claiming to know absolutely what is good and what is not-- is bad for all of us." —Bill Nye, The Science Guy®, CEO of the The Planetary Society, and Humanist of the Year 2010
"Read this book - and you will see that not only are Secular Americans getting louder and more confident, they've actually been here from the very beginning. Well-written and thought-provoking, David Niose makes it clear that we are all part of a larger movement." —Julia Sweeney, actress, comedian, former SNL cast member
"Dave Niose is a highly valued and respected leader in the secular movement." —Wendy Kaminer, author of Free for All and I'm Dysfunctional, You're Dysfunctional
"Dave Niose writes clearly and concisely and advocates effectively for the secular tradition. I expect Secular Americans who read this book will feel more motivated to seek the visibility and respect they so richly deserve." —Herb Silverman, president of the Secular Coalition for America
"David Niose is a talented writer with keen insights into contemporary secularism. As a key leader in the secular movement, Niose is uniquely situated to help Americans understand this fast-growing phenomenon." —Rob Boston, author of Why the Religious Right is Wrong About Separation of Church and State
St. Martin's Griffin, 9781137278715, 272pp.
Publication Date: December 17, 2013
About the Author
David Niose has spent the last decade immersed in secular-progressive politics and the culture wars. He has served as president of two Washington-based advocacy groups—the American Humanist Association and the Secular Coalition for America—and litigated cases across the country on behalf of church-state separation and equal rights. He is the author of Nonbeliever Nation: The Rise of Secular Americans, as well as the popular Psychology Today blog "Our Humanity, Naturally," and has been featured on Fox News, MSNBC, the Associated Press, The National Journal, Christian Science Monitor, BBC, and many other media outlets. He is currently Legal Director of the American Humanist Association.
or
Not Currently Available for Direct Purchase