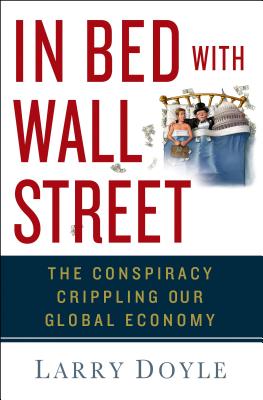 In Bed with Wall Street (Hardcover)
The Conspiracy Crippling Our Global Economy
St. Martin's Press, 9781137278722, 240pp.
Publication Date: January 7, 2014
* Individual store prices may vary.
Description
The Wall Street meltdown in 2008 brought the country to its knees, and spawned nationwide protests against the lack of regulation and oversight facing Wall Street. But the average American still fails to fully grasp what was—and still is—happening: that the inmates continue to run the asylum. Doyle has been tracking this story for years through his blog Sense on Cents, and exposes here how Wall Street, our politicians, and the regulators themselves have conspired for personal and industry-wide gains while failing to protect investors, consumers, and the American taxpayer. He details the corrupt nature of Wall Street's financial police, who are little more than meter maids imposing fines that amount to nothing more than a slap on the wrist. He exposes the revolving door of Wall Street, wherein the regulators are all former or future employees of the very firms they're tasked with overseeing, and how they routinely serve the interests of the industry itself rather than protecting investors and markets. Recent bombshells—such as multi-billion dollar trading losses at JP Morgan Chase, the manipulation of interest rates via the LIBOR scandal, and money laundering with North American drug cartels and rogue nations such as Iran—are symptomatic of this corrosive culture and the lack of trust and confidence in the system. As the big banks fight tooth and nail to avoid real reforms that would protect the economy, this book is a timely, important, and shocking look inside the Washington-Wall Street conspiracy crippling America and the global economy.
About the Author
Larry Doyle is a former mortgage-backed securities trader who has worked for the First Boston Corporation,  Bear Stearns,  Union Bank of Switzerland, Bank of America,  and JP  Morgan Chase. He also served as chair of the Mortgage Trading  Committee for the Public Securities  Association   (PSA). Doyle is the author of In Bed with Wall Street and is a contributing  writer for a number of news outlets and financial sites including  the widely read Seeking Alpha, Before It's News, Business Insider, Daily Markets, Benzinga, CNN/Fortune, ForexPros, and Wall  Street Pit.  He has been  interviewed  on  Fox  Business News,  CNBC, Al  Jazeera  English,  First Business News, and China Central TV. His work has  been  featured  in Bloomberg Businessweek, Chicago Sun-Times, Financial Times, Forbes, New York Daily News, New York Post, The Wall Street Journal, and Yahoo! Finance. He currently  runs his own investment  practice and lives  in Connecticut.
Praise For In Bed with Wall Street: The Conspiracy Crippling Our Global Economy…
"If you think Flash Boys was explosive, In Bed with Wall Street is downright nuclear." —Eric Hunsader, Nanex
"In Bed with Wall Street should be read, shared and discussed, not just by the regulators or Wall Street, but more importantly, the average American." —Susan Seltzer, The Derivative Project
"The new book by Larry Doyle, In Bed With Wall Street: The Conspiracy Crippling Our Global Economy, could be called a 'must read'. This reviewer would go even farther and say it should be required reading for every single American." —John Lounsbury, Seeking Alpha and Global Economic Intersection blogs
"A blistering account of the way that a "conspiracy" between Washington and Wall Street has lined the pockets of the richest financial services firms at the expense of average Joes." —Connecticut Post
"Not only does Larry Doyle have years of Wall Street experience that make him an essential observer of the world of finance but he also has something that very few commentators of the scene have: An extraordinarily high-level of honor and integrity. The combination makes Larry Doyle's new book a must read!" —William D. Cohan, author of House of Cards
"In his new book, Larry Doyle serves as an expert guide down the deep, dark canyons of our financial crisis. Holding well-needed light to Wall Street and Washington, Doyle pulls no punches. In Bed with Wall Street is required reading in any honest attempt to understand how our financial system failed." —David P. Weber, Former Assistant Inspector General for Investigations of the U.S. Securities and Exchange Commission, and SEC Whistleblower.
"A juicy insider's account of the incestuous deal between Wall Street and captured regulators, detailing how years after the financial crisis of 2008, powerful interests have allowed the big banks to survive and thrive. Whistleblowers? Check. Corrupted regulators? Check. Financial fraud victims? You'll hear from everyone in Larry Doyle's gem." —Erin Arvedlund, author of Too Good to Be True: The Rise and Fall of Bernie Madoff
"The truth is hard to come by in the corridors of Washington and Wall Street. Lucky for us there's Larry Doyle, who has been relentless in pursuing the truth about our financial regulatory system. His findings should concern us all: Keystone Cops, unheeded whistleblowers, too-big-to-fail banks, kangaroo courts, and rampant revolving doors, just to name a few. In Bed with Wall Street pulls back the curtain on the government's failed response to the financial crisis, and offers a roadmap for meaningful reforms." —Danielle Brian, Project On Government Oversight
"Larry Doyle draws on his decades of Wall Street experience to uncover the cozy relationships between major banks and their supposed regulators while taking us into the dark corners of Wall Street and Washington. His book outlines in detail the fundamental reasons why little has changed since the financial crisis." —James Kwak, associate professor, UConn School of Law, and co-author, 13 Bankers: The Wall Street Takeover and the Next Financial Meltdown
"Larry Doyle does an excellent job of laying out the complex web of conflicts, complicity and deceit enabled by the revolving door between the banking cartel, the regulators and legislators. He patiently and eloquently details the evidence that so few people understand today even after everything that has happened since the financial crisis first erupted." —Danielle Park, author of Juggling Dynamite
"Michael Lewis has accused Wall Street of being 'rigged,' but he's really just scratching the surface, as Doyle outlines in this excellent book." —Mark Melin, ValueWalk blog
or
Not Currently Available for Direct Purchase