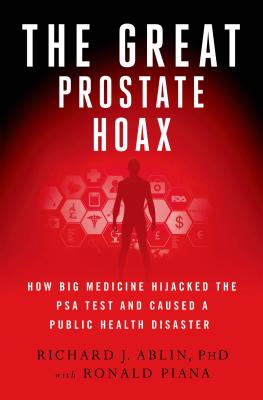 The Great Prostate Hoax
How Big Medicine Hijacked the PSA Test and Caused a Public Health Disaster
Hardcover

* Individual store prices may vary.
Description
Every year, more than a million men undergo painful needle biopsies for prostate cancer, and upward of 100,000 have radical prostatectomies, resulting in incontinence and impotence. But the shocking fact is that most of these men would never have died from this common form of cancer, which frequently grows so slowly that it never even leaves the prostate. How did we get to a point where so many unnecessary tests and surgeries are being done? In The Great Prostate Hoax, Richard J. Ablin exposes how a discovery he made in 1970, the prostate-specific antigen (PSA), was co-opted by the pharmaceutical industry into a multibillion-dollar business. He shows how his discovery of PSA was never meant to be used for screening prostate cancer, and yet nonetheless the test was patented and eventurally approved by the FDA in 1994. Now, doctors and victims are beginning to speak out about the harm of the test, and beginning to search for a true prostate cancer-specific marker.
Praise For The Great Prostate Hoax: How Big Medicine Hijacked the PSA Test and Caused a Public Health Disaster…
"The Great Prostate Hoax boldly exposes the profit, politics and fraud behind PSA screening, and the serious harm done to countless men. This is a must-read for every man, and the women who care about them. " —Margaret I. Cuomo, M.D., author of A World Without Cancer
"Dick Ablin, the discoverer of PSA, provides the inside story of how it became P$A, a veritable public health disaster, harming millions of men. The Hoax is a unique and provocative look into big medicine and why we desperately need a better way forward." —Eric J. Topol, MD, Director, Scripps Translational Science Institute, Chief Academic Officer, Scripps Health and Professor of Genomics, The Scripps Research Institute; Author, The Creative Destruction of Medicine
"An intriguing story of how strong financial interests can trump weak data. And it goes well beyond the usual suspect – the manufacturer of the PSA test – to those who gain from more prostate cancer treatments and from cleaning up the resulting mess." —H. Gilbert Welch MD, MPH, author of Overdiagnosed: Making People Sick in the Pursuit of Health
"The Great Prostate Hoax is the answer to my prayers, finally getting the message out to millions of men in jeopardy of undergoing unnecessary and debilitating treatments. Hoax sends a clear message that those who profit from PSA testing are doing so at the expense of countless men. A must read." —Alvin Cox, prostate cancer survivor who defied a nationally renowned urologist.
St. Martin's Press, 9781137278746, 272pp.
Publication Date: March 4, 2014
About the Author
Richard J.  Ablin, PhD,  DSc (HON)  is a professor of Pathology at University of Arizona College of Medicine. In 1970 he identified PSA—the  prostate specific antigen that is used as a test for prostate cancer. For decades he has fought against the misuse of his discovery, including a 2010 New York Times op-ed titled "The Great Prostate Mistake.' He is the author of the book The Great Prostate Hoax   and lives in Tucson, AZ.

Ronald Piana is a science writer specializing in oncology. He has published more than 400 bylined articles in leading medical journals and is the co-author along with Richard J. Ablin of The Great Prostate Hoax.
or
Not Currently Available for Direct Purchase