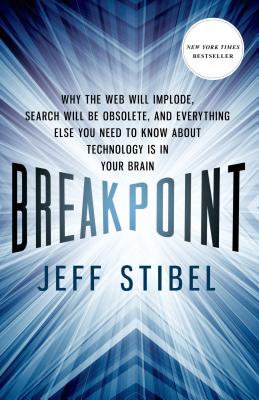 Breakpoint (Hardcover)
Why the Web Will Implode, Search Will Be Obsolete, and Everything Else You Need to Know about Technology Is in Your Br
St. Martin's Press, 9781137278784, 256pp.
Publication Date: July 23, 2013
Other Editions of This Title:
Paperback (9/16/2014)
Compact Disc (9/16/2014)
MP3 CD (9/16/2014)
* Individual store prices may vary.
Description
What can the human brain and its relationship to the internet tell us about our society, our technologies, and our businesses? A lot, as it turns out. The internet today is a virtual replica of the brain, and the networks that leverage it grow and collapse in ways that are easily predictable if you understand the brain and other biological networks.
We're living in the midst of a networking revolution. All of the major technology innovations of the 21st century social networking, cloud computing, search engines, and crowdsourcing, to name a few leverage the internet and are thus bound by the rules of networks. We've seen the exponential growth of these technologies, and they've led to a more efficient and tightly connected world. But what many people don't realize is that all networks eventually reach a "breakpoint" and collapse. This happens in the brain, it happens in nature, it happened to MySpace, and it will happen to Facebook and Google. It is critical to understand where the breakpoint is in the networks you use in order to achieve optimum success.
Navigating the world of new technologies today can be like walking through a minefield unless you know the path. Imagine what you could do with a roadmap for where things are headed?
In this fascinating look at the future of business and technology, neuroscientist and entrepreneur Jeff Stibel shows how the brain can act as a guide to understanding the future of the internet and the constellation of businesses and technologies that run on it. He'll show how leaders like Marissa Mayer are using artificial intelligence to literally remake Yahoo and how startups like oDesk and Kickstarter are using crowdsourcing, the next wave of revolutionary technology, to create something much larger and "smarter" than the sum of their parts.
Stibel offers a fresh perspective about the future of business and technology in a candid and engaging manner.
About the Author
Jeff Stibel is a neuroscientist and entrepreneur. He is currently serving as Chairman and CEO of The Dun & Bradstreet Credibility Corporation and was previously President and CEO of Web.com, Inc. (NASDAQ: WWWW). Stibel is also Chairman of BrainGate, a company whose "brain chip" technology allows the severely disabled to control electronics with nothing but their thoughts and was featured on 60 Minutes. Stibel is the author of Wired for Thought: How the Brain is Shaping the Future of the Internet (Harvard Business Press, 2009). He was the recipient of a Brain and Behavior Fellowship while studying for his PhD in brain science at Brown University. He resides in Malibu, California with his wife and two children.
Praise For Breakpoint: Why the Web Will Implode, Search Will Be Obsolete, and Everything Else You Need to Know about Technology Is in Your Br…
 "A great read – lots of fun, very engaging, full of new facts and smart insights." —Daniel Gilbert, bestselling author of Stumbling on Happiness; Professor of Psychology, Harvard University
"Breakpoint is an engaging comparison of the rise and fall of nature's networks and the lessons we all need to be learning from them as we become increasingly dependent on the internet." —Jon Stewart, host of BBC's Science in Action, and columnist at BBC Future
"Brain scientist Jeff Stibel uses a wide ranging set of fascinating examples to answer why the web will implode and search will be obsolete drawing on parallels of the architecture of our brains. As an entrepreneur providing Brain Machine Interfaces, he draws on the massive architectural structure of cutter ants, how the Easter Island thriving community collapsed through overconsumption, and why Marissa Mayer joined startup Google and most recently became CEO at declining Yahoo." —Gordon Bell, Researcher Emeritus, Microsoft
"Stibel's keen insight into biological networks, including our brain's neural networks, provides the perfect analog for the emerging technological networks. Breakpoints have long been the difference between success and extinction in biology, and Stibel has proved that the same is true in the digital world. Breakpoint is an engaging book and a must read."  —Ashish Soni, Founding Director of the Innovation Institute, University of Southern California
"Jeff Stibel has written an easy-to-read and in-depth analysis of how the internet compares to the human brain in calculation, communication, prediction capabilities and pattern recognition.  What makes his book so fascinating is the simple clarity he brings to an extraordinarily complex and fast-changing subject.  Breakpoint is original, exciting, and brilliantly informative."  —Bill Draper, founder of Sutter Hill Venture and author of The Startup Game
or
Not Currently Available for Direct Purchase