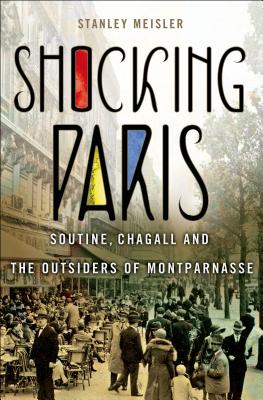 Shocking Paris
Soutine, Chagall and the Outsiders of Montparnasse
Hardcover

* Individual store prices may vary.
Description
For a couple of decades before World War II, a group of immigrant painters and sculptors, including Amedeo Modigliani, Marc Chagall, Chaim Soutine and Jules Pascin dominated the new art scene of Montparnasse in Paris. Art critics gave them the name "the School of Paris" to set them apart from the French-born (and less talented) young artists of the period. Modigliani and Chagall eventually attained enormous worldwide popularity, but in those earlier days most School of Paris painters looked on Soutine as their most talented contemporary. Willem de Kooning proclaimed Soutine his favorite painter, and Jackson Pollack hailed him as a major influence.
Soutine arrived in Paris while many painters were experimenting with cubism, but he had no time for trends and fashions; like his art, Soutine was intense, demonic, and fierce. After the defeat of France by Hitler's Germany, the East European Jewish immigrants who had made their way to France for sanctuary were no longer safe. In constant fear of the French police and the German Gestapo, plagued by poor health and bouts of depression, Soutine was the epitome of the tortured artist. Rich in period detail, Stanley Meisler's Shocking Paris explores the short, dramatic life of one of the most influential artists of the twentieth century.
Praise For Shocking Paris: Soutine, Chagall and the Outsiders of Montparnasse…
"Offers a fresh and moving account of the origins of modern art...revelatory." —Deborah Solomon, The New York Times Book Review
"Meisler...makes good use of contemporary diaries and other documents to paint vivid portraits of his central figures: sophisticated, sociable Modigliani; shy, solitary Soutine; and ambitious, calculating Chagall." —Wendy Smith, The Washington Post
"Stanley Meisler's Shocking Paris presents a richly informed, absorbing and stimulating account of the life and work of some of the best known expatriate artists of early twentieth century Paris, including Chagall, Modigliani, Pascin, and Soutine, who challenged the growing anti-Semitism and xenophobia of Europe in the 1920s and 1930s through their contributions to modern art and culture. Shocking Paris is a pleasure to read and is filled with fascinating insights into the creative achievements of these radical outsiders whose names have become synonymous with Paris between the two world wars." —Michael Taylor, director, Hood Museum of Art, Dartmouth College
"Wonderfully readable... an outstanding contribution to the history of 20th Century art." —David M. Kinchen, Huntington News
"Meisler throws new light on Soutine and, more broadly, on the experiences of aspiring immigrant artists in the city that fostered their dreams." —Kirkus
"Stanley Meisler offers a fascinating account of how scores of foreign Jewish artists sought refuge and inspiration in the cultural fever of the French capital in the interwar years…Meisler argues persuasively that the most original artist among these exiles was Chaim Soutine,…[who] finally assumes his place alongside other masters of modern art." —Alan Riding, author of And The Show Went On: Cultural Life in Nazi-Occupied Paris
"The School of Paris included Chaim Soutine, Marc Chagall, Amedeo Modigliani, and Jules Pascin... Meisler offers an intimate account of their lives... A fascinating read for anyone interested in art history or art." —Library Journal
"Chilling... a meticulous examination... Meisler brings a fresh perspective to this ardent trio's struggles and triumphs while charting the rising anger among the French against the brilliant immigrant artists gathered in Montparnasse, fury that found a ready channel once the Nazis invaded." —Booklist
"Paints a vivid picture of bohemian life in Paris, detailing the passions and personalities of artists, dealers and collectors, as well as shifting artistic currents: the "operatic tragedy" of Modigliani, the ambition and success of Chagall, the sauvage (wild) and fou (mad) intensity of Soutine." —Star Tribune
St. Martin's Press, 9781137278807, 256pp.
Publication Date: April 14, 2015
About the Author
Stanley Meisler is an emeritus foreign correspondent for the Los Angeles Times. He is a distant relation (by marriage) of Chaim Soutine and has written several articles on Soutine and the School of Paris for the Smithsonian and the Los Angeles Times. He lives in Washington, DC.