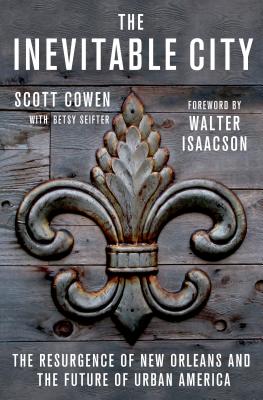 The Inevitable City
The Resurgence of New Orleans and the Future of Urban America
Hardcover

* Individual store prices may vary.
Other Editions of This Title:
Paperback (8/4/2015)
Description
After seven years of service as the president of Tulane University, Scott Cowen watched the devastation of his beloved New Orleans at the hands of Hurricane Katrina. When federal, state, and city officials couldn't find their way to decisive action, Cowen, known for his gutsy leadership, quickly partnered with a coalition of civic, business, and nonprofit leaders looking to work around the old institutions to revitalize and transform New Orleans. This team led the charge to restore equilibrium and eventually to rebuild. For the past nine years, Cowen has continued this work, helping to bring the city of New Orleans back from the brink. The Inevitable City presents 10 principles that changed the game for this city, and, if adopted, can alter the curve for any business, endeavor, community—and perhaps even a nation.
This is the story of the resurgence and reinvention of one of America's greatest cities. Ordinary citizens, empowered to actively rescue their own city after politicians and government officials failed them, have succeeded in rebuilding their world. Cowen was at the leading edge of those who articulated, shaped, and implemented a vision of transformative change that has yielded surprising social progress and economic growth: a drowned city identified with the shocking images of devastation and breakdown has transformed itself into a mecca of growth, opportunity, and hope.
Praise For The Inevitable City: The Resurgence of New Orleans and the Future of Urban America…
"On its surface The Inevitable City is a book about leadership by a man who led his community through a crisis. But what it really is is the story of a love affair, between a man and the city he did so much to save. One day historians will realize how incredible it was that, in the wake of Hurricane Katrina, New Orleans found its greatest leader in a university president. They will turn here to see how and why he did what he did." —New York Times bestselling author Michael Lewis
"Our most famous fictional resident, Blanche DuBois observed that she depended on the kindness of strangers. The truth is in the time after Hurricane Katrina the fate of New Orleans was depending on the vision and competence of a guy that grew up in New Jersey. That person was Tulane President Dr. Scott Cowen. New Orleanians unanimously credit him as being the most significant individual in the resurrection and rebirth of the city. This book is a superb place to become educated on post-Katrina New Orleans." —James Carville
"Scott Cowen takes us on his personal journey rebuilding and revitalizing his university and community after the worst natural disaster to ever hit a modern American city. His unflinching courage and deep compassion propel a narrative that is at once a leadership epic and an examination of the true meaning of service. Scott reminds us that while we mourn the losses inflicted on our beloved Gulf Coast, we must never let that be the end of the story--we must write the next chapter." —Lisa Jackson, VP, Apple Inc and former head of the US Environmental Protection Agency
"In this beautifully written book, Cowen describes how New Orleans' leaders, in partnership with its extraordinary and diverse community of citizens, drew on the history, culture, unbreakable spirit and unquestionable strength of this unique metropolis to reimagine new models of urban renewal and reawakening. The Inevitable City serves both to inspire and instruct all of us who know that while great storms are always possible, revitalization and rebirth are more often the result when men and women of courage and determination face the storm together." —Vartan Gregorian, president of Carnegie Corporation of New York, former president of Brown University
"The Inevitable City is a wonderful and accurate account of Hurricane Katrina. Scott Cowen saved Tulane University and helped save the City of New Orleans. We had no greater leader." —Archie Manning
"Dr. Cowen (Scott) articulates how to turn disaster and despair into an opportunity to make our world a better place. By creating a culture that values education, service, faith and commitment we can change the fate of Urban America without eroding its cultural character." —Chef John Besh, author of Cooking from the Heart
"Cowen offers the blueprint for revitalizing our nation's urban centers with his experience as a leader through the recovery of The Crescent City after America's costliest natural disaster." —Scott Greenstein, President & Chief Content Officer, SiriusXM Radio
"Scott Cowen writes with obvious passion and personal knowledge." —Jonathan Yardley, Washington Post
St. Martin's Press, 9781137278869, 256pp.
Publication Date: June 10, 2014
About the Author
Scott Cowen is president of Tulane University and was one of the key players in the rebuilding of New Orleans after Hurricane Katrina. He is the co-author of The Inevitable City. His work has been widely covered by the media, including Fast Company Magazine, Newark-based The Star-Ledger, The New York Times, and The Chronicle of Higher Education. He is also a guest panelist on the Sirius talk show "Doctor Radio." TIME magazine has named President Cowen one of the nation's Top 10 Best College Presidents and New Orleans CityBusiness called him one of the 30 "Driving Forces" in New Orleans in the last 30 years.
or
Not Currently Available for Direct Purchase