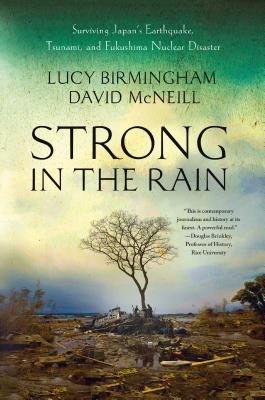 Strong in the Rain: Surviving Japan's Earthquake, Tsunami, and Fukushima Nuclear Disaster (Paperback)
Surviving Japan's Earthquake, Tsunami, and Fukushima Nuclear Disaster
St. Martin's Griffin, 9781137278944, 256pp.
Publication Date: April 1, 2014
* Individual store prices may vary.
or
Not Currently Available for Direct Purchase
Description
In March of 2011, a 9.0 earthquake struck off the northeastern coast of Japan, unleashing a tsunami onto the densely populated coast. Over 19,000 people would be left dead, or missing, and the disaster triggered the world's worst nuclear crisis since Chernobyl: a triple meltdown at the Fukushima Daiichi Nuclear plant. As the world offered support, people everywhere wondered how the Japanese, facing such horrific destruction, were able to exhibit such calm, selflessness, and fortitude in picking up the pieces. Blending history, science, and gripping storytelling, "Strong in the Rain" vividly explores the country beyond the headlines, as well as the personal and national stories behind the earthquake. Following the narratives of six individuals, including a worker in the Fukushima nuclear plant who returned to work during the meltdown and the mayor of a coastal town who stayed round the clock on the job without knowing the fate of his family, it offers a glimpse of the surprising ways the Japanese people stood strong in the face of disaster.
About the Author
Lucy Birmingham is Time magazine's Tokyo-based reporter and covered the March 2011 earthquake, tsunami and nuclear crisis. Since coming to Japan in the mid-1980s, her articles have appeared in Bloomberg News, Newsweek, The Wall Street Journal, and The Boston Globe. She is also an editor and scriptwriter for NHK, Japan's national television and radio broadcaster. A board member of the Foreign Correspondents' Club of Japan, she lives in Tokyo.David McNeill is the Japan correspondent for The Independent and The Chronicle of Higher Education. He writes for The Irish Times and The Japan Times, while teaching at Sophia University in Tokyo. His work has appeared in Newsweek, New Scientist, Marie Claire, International Herald Tribune, Chicago Tribune, and on the BBC. He lives in Tokyo.
Praise For Strong in the Rain: Surviving Japan's Earthquake, Tsunami, and Fukushima Nuclear Disaster…
"[Birmingham and] McNeill bring readers directly into the moment in this action-packed account of the earthquake, tsunami and resulting meltdown at the Fukushima nuclear plant. In this intense narrative, the authors include stories of fishermen who survived by sailing their boats into the oncoming tsunami waves, teachers who raced to get their students to high ground, and plant workers, bound by a sense of duty and honor, who returned to the melting and highly radioactive nuclear facility to help cool overheating fuel rods…Harrowing, sensitive stories of heroism during one of the most traumatic natural disasters in Japanese history."—Kirkus Reviews
"Intrinsically gripping… Stories of individuals stand out … an important contribution to remembering the tsunami and its aftermath."--Publishers Weekly
"A solid, first class work of journalism. A thoroughly researched and masterfully written account of the horrific Tohoku disaster of the spring of 2011 and its aftermath  that  brims with telling detail.  Gripping, heart wrenching, yet ultimately uplifting in its depiction of the power of the human spirit to overcome unimaginable adversity. Hats off to Japan experts Lucy Birmingham and David McNeil for giving us this valuable work."--Robert Whiting, author of Tokyo Underworld
"Lucy Birmingham and David McNeill's Strong in the Rain is a harrowing story of the Fukushima nuclear plant disaster that turned Japan upside down. They put a human face on the tragedy. This is contemporary journalism and history at its finest. A powerful read." --Douglas Brinkley, Professor of History at Rice University."--Douglas Brinkley, author of The Great Deluge and The Quiet World
"How bad was the Fukushima reactor disaster? How perilous the aftermath? Far worse than you realized. Mixing human drama with science and sociology, Birmingham and McNeill have compiled a deeply disturbing account of what the tsunami-triggered meltdown was like for the people of Japan." --Jed Horne, author of Breach of Faith: Hurricane Katrina and the Near Death of a Great American City
"Powerful and evocative. Birmingham and McNeill deftly weave together universal truths & tales about heroism, mortality, calamity and Japanese culture that will still be relevant long after the physical evidence of the devastation are covered up in dirt and concrete."—Jake Adelstein, author of Tokyo Vice
"Japan's tripartite catastrophe as seen from its homes, cars, boats, schools, shelters, bars, control rooms and corporate and government headquarters, in personal stories whose intimacy and complexity rarely made global headlines. The authors are clear: No one can stop an earthquake or tsunami, but we all bear responsibility for nuclear disasters--our most urgent burden and legacy. This book, the best yet in English about Japan's latest nightmare, aches as much as it edifies; it teaches us, whoever we are, how to survive the unthinkable to come."  -- Roland Kelts, author of Japanamerica
"It is hard to appreciate the terror and power of a major earthquake unless you have actually experienced it. However, this book comes as close as possible to taking the reader through such an experience, primarily by focussing in-depth on victims, namely several individuals and families, including bereavements. It was not 'just' a massive earthquake, for it  led to a huge tsunami and potentially even worse damage in the form of  leakage from a nuclear plant. Both the tsunami and the radioactive danger are also covered in detail, and in the latter case no punches are pulled. There is also detailed contextualisation, such as Japan's history of earthquakes and tsunamis and their causes, the role of the Self-Defence Forces (and US forces) who assisted in the recovery, the politics involved, the media, the reactions of foreigners, and so forth. Birmingham and McNeill have done an excellent job in conveying the aftermath of a calamity. Let's hope we learn from it."--Kenneth Henshall, author of A History of Japan
"A riveting story told uncommonly well. This is as close as anyone would want to get to a tsunami and the panic, horrors, desperation and heartbreak endured. The authors contrast the quiet dignity of the Japanese public with the shameful tale of risks ignored and sheer bungling by woefully unprepared authorities."--Jeff Kingston, Director of Asian Studies, Temple University Japan and editor of Natural Disaster and Nuclear Crisis in Japan 
Advertisement