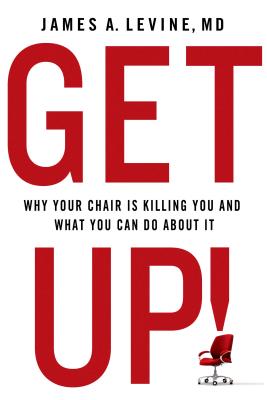 Get Up!
Why Your Chair is Killing You and What You Can Do About It
Paperback

* Individual store prices may vary.
Other Editions of This Title:
Compact Disc (7/29/2014)
MP3 CD (7/29/2014)
Compact Disc (7/29/2014)
Description
That the average adult spends 50 to 70 percent of their day sitting is no surprise to anyone who works in an office environment. But few realize the health consequences they are suffering as a result of modernity's increasingly sedentary lifestyle, or the effects it has had on society at large. In Get Up! , health expert James A. Levine's original scientific research shows that today's chair-based world, where we no longer use our bodies as they evolved to be used, is having negative consequences on our health, and is a leading cause of diabetes, cancer, and heart disease. Over the decades, humans have moved from a primarily active lifestyle to one that is largely sedentary, and this change has reshaped every facet of our lives—from social interaction to classroom design. Levine shows how to throw off the shackles of inertia and reverse these negative trends through simple changes in our daily lives.
Praise For Get Up!: Why Your Chair is Killing You and What You Can Do About It…
"Anyone who takes personal health seriously can benefit from the wisdom within these pages to help reverse the present sedentary paradigm." —Library Journal

"We are learning that the percentage of time you spend sitting is a significant influence on health: the lower the better. In Get Up! Dr. Levine explains the science accounting for this effect and offers practical advice for changing our habits. I recommend it." —Andrew Weil, MD
St. Martin's Griffin, 9781137278999, 240pp.
Publication Date: July 29, 2014
About the Author
James A. Levine is the co-director of the Mayo Clinic/Arizona State University Obesity Solutions Initiative and the inventor of the treadmill desk. He has published more than 100 scientific papers, worked on dozens of corporate programs, and served as an advisor for schools on how to make the classroom a more active place. He is the author of Get Up!  He was awarded the Invention of the Year Award by NASA, the Platinum Award at the World Fair, and Entrepreneur of the Year in the State of Minnesota. His work has been featured on Rock Center, 60 Minutes, BBC, and all major network US morning shows, as well as in The New York Times, and The Times of London.