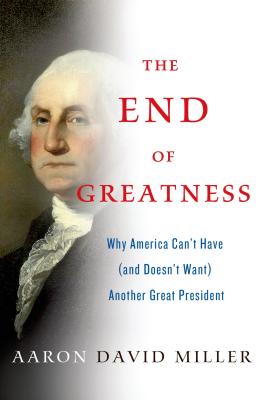 The End of Greatness
Why America Can't Have (and Doesn't Want) Another Great President
Hardcover

* Individual store prices may vary.
Description
The Presidency has always been an implausible—some might even say an impossible—job. Part of the problem is that the challenges of the presidency and the expectations Americans have for their presidents have skyrocketed, while the president's capacity and power to deliver on what ails the nations has diminished. Indeed, as citizens we continue to aspire and hope for greatness in our only nationally elected office. The problem of course is that the demand for great presidents has always exceeded the supply. As a result, Americans are adrift in a kind of Presidential Bermuda Triangle suspended between the great presidents we want and the ones we can no longer have.
The End of Greatness explores the concept of greatness in the presidency and the ways in which it has become both essential and detrimental to America and the nation's politics. Miller argues that greatness in presidents is a much overrated virtue. Indeed, greatness is too rare to be relevant in our current politics, and driven as it is by nation-encumbering crisis, too dangerous to be desirable.
Our preoccupation with greatness in the presidency consistently inflates our expectations, skews the debate over presidential performance, and drives presidents to misjudge their own times and capacity. And our focus on the individual misses the constraints of both the office and the times, distorting how Presidents actually lead. In wanting and expecting our leaders to be great, we have simply made it impossible for them to be good. The End of Greatness takes a journey through presidential history, helping us understand how greatness in the presidency was achieved, why it's gone, and how we can better come to appreciate the presidents we have, rather than being consumed with the ones we want.
Praise For The End of Greatness: Why America Can't Have (and Doesn't Want) Another Great President…
"Miller's intellectual trek wends its way into lush forests of insight and charm, through underbrush and past tall pines of history, biography, political science and human understanding…the journey is its own reward." —National Interest
"It's time to abandon our illusions and take a more realistic view of the presidency…A provocative and highly readable analysis." —Kirkus
"You may already know Aaron David Miller as one of our shrewdest analysts of the Middle East. Be prepared now to encounter him as a probing and highly original student of the American presidency. In The End of Greatness we have a brisk, perceptive, and often wry, look at why our presidents--including, most importantly, Barack Obama--come into office raising our hopes for magnificent transformations, only to disappoint us with their limitations. With their insight, historical depth, and realism, Miller's ideas will surprise you and--above all, make you think." —David Greenberg, Professor of History, Rutgers University, Author of Nixon's Shadow: The History of an Image
"Will American ever again have a great president? To this intriguing question, Aaron David Miller brings a delightfully provocative sensibility, a lively and engaging pen, and, not least, thirty years of government experience. Whether one agrees with his conclusions or not, this book should spark a thoughtful debate about what we can realistically expect from our presidents as we enter the next electoral season." —Robert Kagan, Senior fellow at the Brookings Institution; author of The World America Made
"Is the obsession with 'greatness' making us forget that what we need first from presidents are competence, balance, and a strong sense of what's right? Aaron David Miller is challenging much of what we regularly read about the presidency--and good for him. You may disagree with him at times, as I did, but you'll be grateful that he helps us see the toughest job in the world in a new light." —E. J. Dionne Jr., author of Our Divided Political Heart
"Why has America gone some 70 years--the longest time ever--without a president in the league of Washington, Lincoln and FDR? Aaron David Miller dissects our political history with a finely sharpened scalpel, coming up with penetrating answers. More provocatively, he argues we may be better off not to have another "great president". I doubt many readers will agree with all of his arguments--I don't--but they certainly deserve our serious attention. And they are a pleasure to read!" —David Gergen, Professor & Co-Director, Center for Public Leadership, Harvard Kennedy School, and Former White House Adviser, Four Presidents
St. Martin's Press, 9781137279002, 288pp.
Publication Date: October 7, 2014
About the Author
Aaron David Miller is currently Vice President for New Initiatives and a Distinguished Scholar at the Woodrow Wilson International Center for Scholars. For two decades, he served as an adviser to Republican and Democratic Secretaries of State, helping formulate U.S. policy on the Middle East and the Arab-Israeli peace process. Miller lectures widely at universities and symposia across the country and appears regularly on CNN, CNN International, NPR, Fox, MSNBC, CBS, NBC, and The Lehrer News Hour, as well as BBC and Canadian Broadcasting. He also writes for such newspapers as the New York Times, the Washington Post, the Los Angeles Times and the International Herald Tribune. His weekly column Reality Check appears in Foreign Policy Magazine.  He is also the author of the book, The Much Too Promised Land, described by Publishers Weekly in its starred review as "approachable and deeply smart."
Coverage from NPR
or
Not Currently Available for Direct Purchase