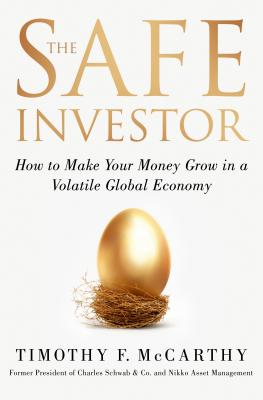 The Safe Investor
How to Make Your Money Grow in a Volatile Global Economy
Hardcover

* Individual store prices may vary.
Description
Investing information is everywhere; there are blogs, newspapers, magazines, and cable TV shows all dedicated to helping individuals invest in smarter and more successful ways. Yet despite all the efforts to educate the public on investing, most people still feel uncomfortable with how they should actually invest their money. Recent predictions about slowing economic growth, historically low interest rates, and volatile markets have investors scratching their heads about what to do with their money. And more than ever, people are scared about whether they can grow their money enough to last through their lifetime.
Expert investor Timothy McCarthy has spent the last 30 years in the US and overseas providing investment solutions to individuals and their advisors. He believes that understanding how to create a truly globally diverse portfolio while applying the magic of time will help all investors navigate risky markets. McCarthy also explores the fundamentals of picking and evaluating financial advisors for those who want to understand the principles of investing but not actually do the work themselves. McCarthy helps guide the reader along a straightforward path to investment success by telling engaging and actual stories to illustrate each of his seven lessons of successful investing. The Safe Investor will help even those readers with little interest or aptitude for finance to be comfortable in knowing what to do to manage their life investment plan and how to manage their own advisors.
Praise For The Safe Investor: How to Make Your Money Grow in a Volatile Global Economy…
"The Safe Investor is an excellent contemporary discussion about the best practice choices individual investors can make to secure their financial future. It also shows you the mechanical steps you need to take to do this process safely. The book is based on realistic outcomes and shows you how you can grow your nest egg at a reasonable rate of return without taking on too much risk.
This type of actionable information is what a lot of finance books are missing. And McCarthy's focus on actionable implementation make the ideas in The Safe Investor all that more valuable. This is money management best practice, and certainly worth reviewing if you aren't already up to speed." —Stock Ideas
St. Martin's Press, 9781137279101, 320pp.
Publication Date: February 4, 2014
About the Author
Timothy F. McCarthy has the unique experience of heading up three of Asia's largest financial services firms, Nikko Asset Management  Co., Goodmorning  Securities, and Jardine  Fleming  UT. He is the author of The Safe Investor. He has also served as President  and COO of The Charles Schwab Corporation and President of the Fidelity Investment Advisor Group.
or
Not Currently Available for Direct Purchase