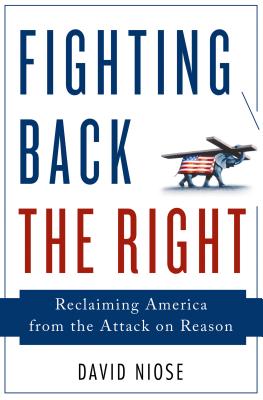 Fighting Back the Right (Hardcover)
Reclaiming America from the Attack on Reason
St. Martin's Press, 9781137279248, 256pp.
Publication Date: December 16, 2014
* Individual store prices may vary.
Description
The political scene is changing rapidly in America. The religious right is on the defensive, acceptance of gay rights is at an all-time high, social conservatives are struggling for relevance, and more Americans than ever identify as nonreligious. What does this mean for the country and the future? With these demographic shifts, can truly progressive, reason-based public policy finally gain traction? Or will America continue to carry a reputation as anti-intellectual and plutocratic, eager to cater to large corporate interests but reluctant to provide universal health care to all its citizens? Fighting Back the Right reveals a new alliance in the making, a progressive coalition committed to fighting for rational public policy in America and reversing the damage inflicted by decades of conservative dominance. David Niose, Legal Director of the American Humanist Association (AHA), examines this exciting new dynamic, covering not only the rapidly evolving culture wars but also the twists and turns of American history and politics that led to this point, and why this new alliance could potentially move the country in a direction of sanity, fairness, and human-centered public policy.
About the Author
David Niose has spent the last decade immersed in secular-progressive politics and the culture wars. He has served as president of two Washington-based advocacy groups--the American Humanist Association and the Secular Coalition for America--and litigated cases across the country on behalf of church-state separation and equal rights. He is the author of Nonbeliever Nation: The Rise of Secular Americans, as well as the popular Psychology Today blog "Our Humanity, Naturally," and has been featured on Fox News, MSNBC, the Associated Press, The National Journal, The Christian Science Monitor, BBC, and many other media outlets. He is currently Legal Director of the American Humanist Association.
Praise For Fighting Back the Right: Reclaiming America from the Attack on Reason…
"Dave Niose is a highly valued and respected leader in the secular movement."—Wendy Kaminer, author of Free for All and I'm Dysfunctional, You're Dysfunctional  "Dave Niose writes clearly and concisely and advocates effectively for the secular tradition. I expect Secular Americans who read this book will feel more motivated to seek the visibility and respect they so richly deserve."—Herb Silverman, president of the Secular Coalition for America "David Niose is a talented writer with keen insights into contemporary secularism. As a key leader in the secular movement, Niose is uniquely situated to help Americans understand this fast-growing phenomenon."—Rob Boston, author of Why the Religious Right Is Wrong about Separation of Church and State
or
Not Currently Available for Direct Purchase