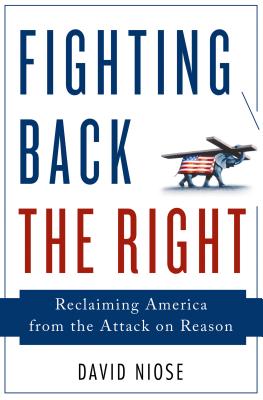 Fighting Back the Right
Reclaiming America from the Attack on Reason
Hardcover

* Individual store prices may vary.
Description
The political scene is changing rapidly in America. The religious right is on the defensive, acceptance of gay rights is at an all-time high, social conservatives are struggling for relevance, and more Americans than ever identify as nonreligious. What does this mean for the country and the future? With these demographic shifts, can truly progressive, reason-based public policy finally gain traction? Or will America continue to carry a reputation as anti-intellectual and plutocratic, eager to cater to large corporate interests but reluctant to provide universal health care to all its citizens? Fighting Back the Right reveals a new alliance in the making, a progressive coalition committed to fighting for rational public policy in America and reversing the damage inflicted by decades of conservative dominance. David Niose, Legal Director of the American Humanist Association (AHA), examines this exciting new dynamic, covering not only the rapidly evolving culture wars but also the twists and turns of American history and politics that led to this point, and why this new alliance could potentially move the country in a direction of sanity, fairness, and human-centered public policy.
Praise For Fighting Back the Right: Reclaiming America from the Attack on Reason…
"Fighting Back the Right is unabashedly secular, unapologetically progressive and unquestionably long overdue. David Niose outlines a vision of a fairer and freer society, one anchored in reason and science. Niose's insightful analysis exposes both the pro-corporation, anti-government right that seeks a radically scaled down, "do-nothing" state and the zealous social conservatives who yearn to run the lives of others, showing us that what they offer is weak tea indeed. Most satisfyingly, Niose provides a strategy for creating real change – if only we'll follow it." —Rob Boston, Director of Communications, Americans United for Separation of Church and State, and author of Taking Liberties: Why Religious Freedom Doesn't Give You the Right to Tell Other People What to Do
"Fighting Back the Right offers a clear look at the missteps that have allowed fear, religious policies, and greed to overwhelm critical thinking, evidence-based policies, and logic at every level of government. David Niose provides a plan to escape the morass we are in--do we have the will to try?" —Amanda Knief, author of The Citizen Lobbyist
"In his direct, clear-eyed analysis, David Niose ably diagnoses America's problem as the demise of human-centered public policy. He then zeroes in on its cause as a toxic combination of anti-intellectualism, religious fundamentalism, corporatism and ineffectual democracy. But he doesn't leave us dangling. Niose provides a way forward and a toolkit for social repair that includes a more vocal and public secular community. This is a must-read for anyone who thinks America has taken leave of its senses and wants to know what to do about it." —Robyn Blumner, Executive Director, Richard Dawkins Foundation for Reason and Science
"This book is a powerful call for government of, by and for the people in the 21st century--not gods and not private corporations, whether religious or secular. Stirring!" —Jamie Raskin, professor of law, American University Washington College of Law, and Maryland State Senator
"Why do they hate reason? In Fighting Back the Right, David Niose catalogues the damage wreaked by right-wing anti-intellectualism over two centuries, and proposes strategies to reverse it. An ambitious and invigorating book." —Katherine Stewart, author of The Good News Club: The Christian Right's Stealth Assault on America's Children
"Too many opponents of mindless conservatism think that they have to pander to religion to make their case. Whether it's a cynical tactic to get taken seriously by the religious, or a heartfelt conviction that only religion can provide moral justification to politics, David Niose shows they're wrong. This is an important contribution to current debates on politics, religion, and meaning." —Steven Pinker, Johnstone Professor of Psychology, Harvard University, and author of The Better Angels of Our Nature: Why Violence Has Declined
"Fighting Back the Right is a long, sobering and unflinching look at what is happening in this country. Deeper still, David Niose provides the philosophical context for helping to understand why these things are happening. Fighting Back the Right serves as a clarion call for how to enact majoritarian, progressive and common-sense public policy." —David Cobb, 2004 Green Party presidential nominee and co-founder of Move To Amend
"With clarity and passion, David Niose makes a powerful case for why politics needs secularism--and why secularism needs politics." —Greta Christina, Author of Coming Out Atheist: How to Do It, How to Help Each Other, and Why and Why Are You Atheists So Angry? 99 Things That Piss Off the Godless
"Not only is Dave Niose without question one of the most important writers on secularism, atheism and Humanism in America today, Fighting Back the Right shows why he deserves to become one of the best known voices in American progressive politics, regardless of your religious affiliation or lack thereof. In the 21st century, reasonable people of all beliefs and backgrounds must fight harder and smarter than ever for a better and more enlightened society. I look to Dave to help lead us to that promised land, and you should too." —Greg M. Epstein, Humanist Chaplain at Harvard University and author of Good Without God
"A lucid, sharp, and unabashedly secular salvo in the culture wars." —National Memo
"Fighting Back the Right is a searing and provocative indictment of the right-wing's war on America's secular values. Timely and powerful, it's a refreshing jolt of cerebral clarity. Niose outlines a blueprint for restoring rational, progressive public policy." —CJ Werleman, author of Crucifying America: The Unholy Alliance Between the Christian Right and Wall Street
"It is change we need, not only in culture war terms, because as we watch our world collapse around us in drought and wildfire and other natural disasters, rising sea levels and water shortages, and see the dearth of pragmatism directed at the dangers of global warming, we realize that without a change in our own thinking, no effective answers will be forthcoming....This makes David Niose's Fighting Back the Right more important than ever. Read it. Challenge your assumptions, and help reclaim America from the attack on reason." —Hrafnkell Haraldsson, Polticususa
St. Martin's Press, 9781137279248, 256pp.
Publication Date: December 16, 2014
About the Author
David Niose has spent the last decade immersed in secular-progressive politics and the culture wars. He has served as president of two Washington-based advocacy groups—the American Humanist Association and the Secular Coalition for America—and litigated cases across the country on behalf of church-state separation and equal rights. He is the author of Nonbeliever Nation: The Rise of Secular Americans, as well as the popular Psychology Today blog "Our Humanity, Naturally," and has been featured on Fox News, MSNBC, the Associated Press, The National Journal, Christian Science Monitor, BBC, and many other media outlets. He is currently Legal Director of the American Humanist Association.
or
Not Currently Available for Direct Purchase