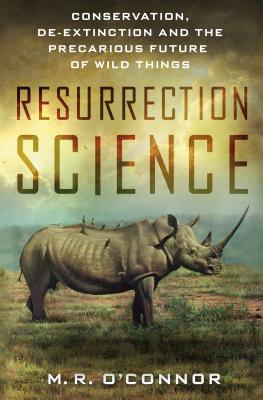 Resurrection Science
Conservation, De-Extinction and the Precarious Future of Wild Things
Hardcover

* Individual store prices may vary.
Description
**A Library Journal Best Book of 2015 **
**A Christian Science Monitor Top Ten Book of September**
In a world dominated by people and rapid climate change, species large and small are increasingly vulnerable to extinction. In Resurrection Science, journalist M. R. O'Connor explores the extreme measures scientists are taking to try and save them, from captive breeding and genetic management to de-extinction. Paradoxically, the more we intervene to save species, the less wild they often become. In stories of sixteenth-century galleon excavations, panther-tracking in Florida swamps, ancient African rainforests, Neanderthal tool-making, and cryogenic DNA banks, O'Connor investigates the philosophical questions of an age in which we "play god" with earth's biodiversity.
Each chapter in this beautifully written book focuses on a unique species--from the charismatic northern white rhinoceros to the infamous passenger pigeon--and the people entwined in the animals' fates. Incorporating natural history and evolutionary biology with conversations with eminent ethicists, O'Connor's narrative goes to the heart of the human enterprise: What should we preserve of wilderness as we hurtle toward a future in which technology is present in nearly every aspect of our lives? How can we co-exist with species when our existence and their survival appear to be pitted against one another?
Praise For Resurrection Science: Conservation, De-Extinction and the Precarious Future of Wild Things…
**Honorable Mention for Sigurd F. Olson Nature Writing Awards 2016**
**A Library Journal Best Book of 2015**
**A Christian Science Monitor Top 10 Book of September 2015**
"Entertaining...Resurrection Science demonstrates unequivocally that the Anthropocene has already dawned, and that we are ill-equipped to deal with its consequences." —The New York Review of Books
"Deep and inquiring...O'Connor sets out to tell the story of the...species that face or have gone through extinction." —Pacific Standard
"An extraordinary smorgasbord of cutting-edge science and thinking...[O'Connor] made me stop and think, again and again." —Ashley Hay, The Australian
"This is a very important contribution to conservation, but even more importantly connects conservation and the current extinction crisis to deeper and broader themes concerning the human experience and the natural world." —Dr. George Amato, Director of the Sackler Institute for Comparitive Genomics, American Museum of Natural History
"Will it one day be possible to bring a woolly mammoth or a Neanderthal back to life? If so, should we? How is climate change affecting the evolution and extinction of species?... Traveling the world from Kenya (in search of the white rhino) to a lab in California (where a geneticist is trying to resurrect the extinct passenger pigeon), O'Connor reports on the people and places on the front lines of what has become known as resurrection science." —Simon Worrall, National Geographic
"What is a species worth, especially when its natural environment no longer exists? This question becomes the driving force behind journalist M.R. O'Connor's new book, Resurrection Science… O'Connor offers a critical toolkit to help readers understand the challenges of wildlife preservation." —Christian Science Monitor
"A book as thought-provoking as it is fascinating."—Booklist
"O'Connor skillfully negotiates her way through the thorny ethical issues involved in reinventing nature from DNA banks and frozen tissue samples…[has] a reporting-from-the-front-lines feel." —Library Journal
"At the intersection of conservation, technology and hope lie some of the most fascinating -- and often unsettling -- stories of the fight to preserve the world's natural heritage. In RESURRECTION SCIENCE, M.R. O'Connor plumbs the ways synthetic biology might recreate an extinct pigeon, a Hail-Mary gamble in Africa to save a vanishing toad with the world's biggest sprinkler system, and the bioethics of bringing living Neanderthals back to the 21st century. Rhinos, whales, panthers and a sacred crow inhabit this world of tantalizing and sometimes frightening prospects, which O'Connor navigates with journalistic skill and graceful prose."—Scott Weidensaul, author of The Ghost with Trembling Wings and other books
"In a provocative and thoughtful new book, journalist M.R. O'Connor scrutinizes the earnest efforts of the conservation movement. She asks the hard questions. For what are we saving endangered species? For their own sake? To keep in a zoo? So our children can see one or two? But is a tiger in a zoo, with little room to roam and no prey to catch, really a tiger? Should we be retrieving the DNA of the extinct passenger pigeon or the charismatic woolly mammoth to try to rebreed them, in a bold attempt at rewilding, if we cannot also protect or recreate the habitat and resources on which they once lived ? O'Connor explores the ethics, benefits, and consequences of one of the most important biological movements today. This book should be required reading for anyone interesting in conservation." —Pat Shipman, author of How Humans and Their Dogs Drove Neanderthals to Extinction
"In this gripping overview… the author examines the complex, high-tech, usually expensive, and often controversial efforts to save species in peril and even long-gone." –Kirkus Reviews (Starred Review)
"Few topics in conservation are as dizzyingly futuristic as that of bringing extinct species back to life. M.R. O'Connor's Resurrection Science steadily unwraps the technical wizardry of saving vanishing wildlife and then plumbs the strangest discipline of all: Promethean projects to raise passenger pigeons and perhaps even Neanderthals from the dead. A masterful explicator, O'Connor never loses sight of the moral weight and complexity of these aims, and this remarkable, important book makes gripping reading for anyone who cares about the end—or perhaps the beginning—of the world."—Caroline Fraser, author of Rewilding the World: Dispatches from the Conservation Revolution
St. Martin's Press, 9781137279293, 272pp.
Publication Date: September 15, 2015
About the Author
M.R. O'CONNOR's reporting has appeared in Foreign Policy, Slate, The Atlantic, Nautilus and The New Yorker. Her work has received support from the Pulitzer Center on Crisis Reporting, The Nation Institute's Investigative Fund, and the Alfred P. Sloan Foundation. In 2016 she was a Knight Science Journalism Fellow at MIT. She is the author of Resurrection Science. A graduate of Columbia's Graduate School of Journalism, she lives in Flatbush, Brooklyn.
or
Not Currently Available for Direct Purchase