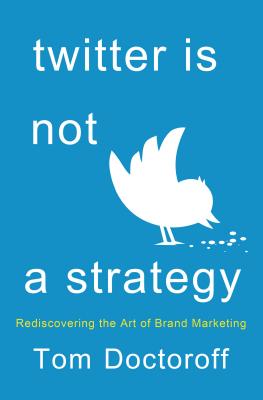 Twitter Is Not a Strategy: Rediscovering the Art of Brand Marketing (Hardcover)
Rediscovering the Art of Brand Marketing
Palgrave MacMillan Trade, 9781137279309, 260pp.
Publication Date: November 11, 2014
Description
In a cultural climate saturated by technology, marketing professionals have focused their energies on creating newer and more digital methods of advertising their brands, with the fear that if they don't embrace "Big Data," they will fade into obscurity. But Tom Doctoroff, Asia CEO for J. Walter Thompson, argues that this frenzy over digital and social media has created a schism in the marketing world that is hindering brands from attaining their true business potential. The tension between traditional branding and the seemingly unlimited possibilities presented by the advent of "digital" branding leads companies to abandon the tried and true aspects of marketing for the flash of the new. In "Twitter is Not a Strategy," Doctoroff explains why a strategy that truly integrates the two ideas is the best way for a brand to move into the future. Using some of the biggest brand names in the world as examples, such as Coca-Cola, Nike, and Apple, he breaks down the framework of marketing to explain how digital marketing can't stand without the traditional foundation.
About the Author
Tom Doctoroff is Asia CEO for J. Walter Thompson, and the author of Billions and What Chinese Want . He has appeared regularly on CNBC, NBC, Bloomberg, and National Public Radio, as well as Financial Times, Business Week, The Wall Street Journal, and The New York Times.
Praise For Twitter Is Not a Strategy: Rediscovering the Art of Brand Marketing…
Praise for Tom Doctoroff's Previous Works:
Praise for What Chinese Want:
"With insight and energy, Doctoroff…takes on the daunting task of explaining the Chinese character… This in-depth, lively précis of modern-day China is an invaluable guide to anyone hoping to do business in the fast-growing Eastern market." —Publishers Weekly
"A primer on Chinese consumers [with] each paragraph delivering a takeaway pearl of wisdom… A no-nonsense book by an enlightened capitalist." —Kirkus Reviews
"Doctoroff offers his readers practical advice as well as examples of successful marketing campaigns in China…An essential read." —Library Journal
Praise for Billions:
"Mr. Doctoroff's book sheds much-needed light on the differences between Chinese and Western cultural preferences, and should be of interest to businessmen and general readers alike. Most importantly, his observations should help multinational companies understand their target audience, and enable them to market their brands more effectively to China's hungry consumers." —The Wall Street Journal

Advertisement