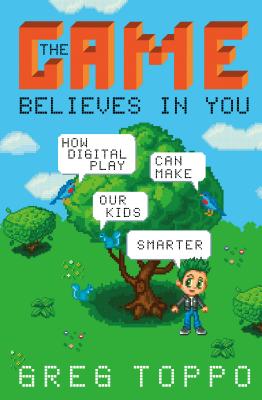 The Game Believes in You (Hardcover)
How Digital Play Can Make Our Kids Smarter
St. Martin's Press, 9781137279576, 256pp.
Publication Date: April 21, 2015
* Individual store prices may vary.
Description
What if schools, from the wealthiest suburban nursery school to the grittiest urban high school, thrummed with the sounds of deep immersion? More and more people believe that can happen - with the aid of video games. Greg Toppo's The Game Believes in You presents the story of a small group of visionaries who, for the past 40 years, have been pushing to get game controllers into the hands of learners. Among the game revolutionaries you'll meet in this book:
*A game designer at the University of Southern California leading a team to design a video-game version of Thoreau's Walden Pond.
*A young neuroscientist and game designer whose research on "Math Without Words" is revolutionizing how the subject is taught, especially to students with limited English abilities.
*A Virginia Tech music instructor who is leading a group of high school-aged boys through the creation of an original opera staged totally in the online game Minecraft.
Experts argue that games do truly "believe in you." They focus, inspire and reassure people in ways that many teachers can't. Games give people a chance to learn at their own pace, take risks, cultivate deeper understanding, fail and want to try again-right away-and ultimately, succeed in ways that too often elude them in school. This book is sure to excite and inspire educators and parents, as well as provoke some passionate debate.
About the Author
Greg Toppo is USA Today's national K-12 education and demographics reporter. He lives near Baltimore, Maryland.
Praise For The Game Believes in You: How Digital Play Can Make Our Kids Smarter…
"The best book on games and education in YEARS. Very worth a read!" -Raph Koster, legendary game designer and author of A Theory of Fun for Game Design
"Modern video games encourage exploration and, above all, failure, concepts often missing from the classroom environment, Toppo says...Well-designed games, Toppo writes, 'don't reward casual effort, mindless repetition or rat-in-a-cage responses. Instead they reward practice, persistence, and risk-taking.'" —T. Rees Shapiro, The Washington Post
"If you want a glimpse into the..."mostly unconnected" world of leading edge learning games, this is the single best book you can currently buy to get it...Greg Toppo is not one of us, but after this book, I'm hoping we can keep him." —Erin Hoffman, Quora
"Between hype and hating lies the nuanced discoveries of veteran education reporter - and former teacher - Greg Toppo...Some of his findings might surprise you." —Eric Westervelt, NPR
"In his deeply reported and compassionately argued book, Toppo ... explains that we have it all wrong. .. 'What looks like a 21st-century, flashy, high-tech way to keep kids entertained is in fact a tool that taps into an ancient way to process, explore and understand the world.'...As the parent of a young child, I began The Game Believes in You thinking of video games as a kind of menace. I finished it believing that games are one of the most promising opportunities to liberate children from the damaging effects of schools that are hostile to fun." —Kevin Carey, New York Times Book Review
"The Game Believes in You is a mind-changing book by an outstanding reporter." —John Merrow, Education Correspondent, PBS NewsHour, and President, Learning Matters, Inc.
"[Toppo's] wonderfully written book tells the stories of many game makers and scholars who have found clear signs of such activity promoting learning.... Toppo finds...that breaking away from the standard American school routine is worth the risk." —Jay Mathews, The Washington Post
"Toppo made a persuasive case that games do many of the things we expect schools and teachers to do - differentiate instruction, gather data and assess performance - and very, very well...The Game Believes in You has convinced me I need to take a new look at something I thought I'd made up my mind about long ago. I hope I'm not the only one." —US News & World Report
"The most important book on games and learning in a decade!" —Jane McGonigal
"I think this will turn out to be the most influential book on video game learning since James Paul Gee's 2003 classic What Video Games Have to Teach Us About Learning and Literacy. Greg Toppo is one of the few ed tech writers who truly understand the potential of game-based learning and can distinguish the few good learning games currently available from the ocean of crap." —Keith Devlin, Stanford University mathematician, NPR's Math Guy and chief scientist of BrainQuake
"Yes, indeed, the best book since mine - and it is much better written than mine. Greg has done a great job. The book is both highly informative and really entertaining at the same time." —James Paul Gee, author of WHAT VIDEO GAMES HAVE TO TEACH US ABOUT LEARNING AND LITERACY
"For way too many children, "school" isn't designed to encourage critical thinking and a love of learning.Greg Toppo's The Game Believes In You reveals how many games inspire and motivate children to learn but our own biases stop us from seeing games as critical tool to transform the educational experience of our children. The Game Believes In You shows us how games can help all of us to be better learners but even more importantly It is a direct challenge to parents and educators to create learning environments our children deserve." —Rosalind Wiseman, author of Queen Bees & Wannabees and Masterminds and Wingmen
"What a wonderful and necessary book! Greg Toppo puts the fun back into gaming (never mind that it's also good for you). Play is healthy -- parents rejoice!" —Sandra Tsing Loh, author, The Madwoman in the Volvo and Mother on Fire
"In his compelling book, Greg Toppo demonstrates what I've known for many years -- from observing my own kids as well as thousands of others -- the kinds of problems kids are solving in game play increases their ability to perform in school and to solve complex problems. Today's world is more about problem solving than memorization. For this, games are perfect." —Nolan Bushnell, Founder, Atari and CEO of BrainRush
"An exciting overview of how innovative teachers are harnessing the power of games to engage students." —Library Journal