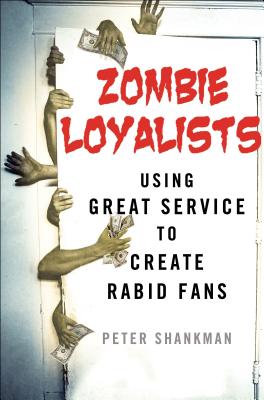 Zombie Loyalists: Using Great Service to Create Rabid Fans (Hardcover)
Using Great Service to Create Rabid Fans
St. Martin's Press, 9781137279668, 256pp.
Publication Date: January 27, 2015
Description
Marketing and PR expert Peter Shankman has been working with the biggest companies in the world to create what he calls "Zombie Loyalists," fervent fans that help companies massively increase their customer base, brand awareness, and most importantly, revenue. After all, why should you have to tell the world how amazing you are if you can have your existing customers do it for you? Imagine an army of customers who will do your public relations, marketing and advertising, without being asked, each and every time they give you their money. These are Zombie Loyalists. They are ready to buy what you sell, respond to your email offers and demand that their friends to do the same.
So how do you get this rabid following? There's been a lot of lip service given to customer loyalty over the past few years, but most companies still don't realize that a points program or a slew of untargeted emails simply won't do it. With so many products and platforms to choose from, amazing customer service is the only differentiator that will truly put you ahead of your competition. Looking at exceptional companies like the Ritz Carlton, Commerce Bank, and Starwood Hotels, as well as smaller businesses to turn their customers into Zombie Loyalists, he shows how you can create your own customer army.
About the Author
Peter Shankman is the author of Nice Companies Finish First and the founder of Help a Reporter Out (HARO), the largest free source repository for journalists in the world. He is also the founder and CEO of The Geek Factory, Inc. His PR and social media clients have included AmEx, Sprint, the US Department of Defense, Royal Bank of Canada, Snapple, Walt Disney World, and many others.
Advertisement