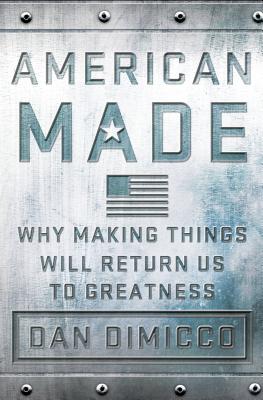 American Made
Why Making Things Will Return Us to Greatness
Hardcover

* Individual store prices may vary.
Description
American manufacturing is on life support—at least, that's what most people think. The exodus of jobs to China and other foreign markets is irreversible, and anything that is built here requires specialized skills the average worker couldn't hope to gain. Not so, says Dan DiMicco, chairman and former CEO of Nucor, America's largest steel company. He not only revived a major US manufacturing firm during a recession, but helped galvanize the flagging domestic steel industry when many of his competitors were in bankruptcy or headed overseas. In American Made, he takes to task the politicians, academics, and political pundits who, he contends, are exacerbating fears and avoiding simple solutions for the sake of nothing more than their own careers, and contrasts them with the postwar leaders who rebuilt Europe and Japan, put a man on the moon, and kept communism at bay. We need leaders of such resolve today, he argues, who can tackle a broken job-creation engine by restoring manufacturing to its central role in the U.S. economy—and cease creating fictitious "service businesses" where jobs evaporate after a year or two, as in a Ponzi scheme.

With his trademark bluntness, DiMicco tackles the false promise of green jobs and the hidden costs of outsourcing. Along the way, he shares the lessons he's learned about good leadership, crisis management, and the true meaning of innovation, and maps the road back to robust economic growth, middle-class prosperity, and American competitiveness.
Praise For American Made: Why Making Things Will Return Us to Greatness…
"With American Made, Mr. DiMicco delivers a broadside against the fashionable "secular stagnation" theorists dominating the political discourse.. few people will agree with everything he says, but the book is a cri de coeur from one of our best executives from one of our most successful companies. Attention should be paid." —The Wall Street Journal

"Common-sensical--perhaps too much so for policymakers to stomach--and plainspoken. Free trade absolutists and corporate apologists will hate it, but as for the rest, it's worthy of much discussion." —Kirkus Reviews

"[DiMicco] offers blistering criticism of politicians from both parties for maintaining ideological positions at the expense of focusing on the economy and creating jobs...Clearly and passionately, he offers solutions for economic recovery through investing in infrastructure and encouraging innovation." —Booklist

"If this nation's leaders would read this book, maybe they could keep our country from committing financial suicide. Dan's common-sense approach is a uniting factor that's missing in this era of fractious, if not toxic, politics. Dan will leave you scratching your head about how in heck we have gotten so off-base, and hurt so many hardworking men and women, in the United States of America." —Jim Cramer, host, CNBC's "Mad Money"

"In American Made, my former competitor, steel industry colleague and friend Dan DiMicco makes a compelling case that the way forward for America lies in making and building things, rather than the mythical service and financial models that have led to repeated bubbles and busts. Dan presents his case in clear and concise terms that should appeal to policymakers and factory workers alike. His patriotic spirit is unquenchable, and his logic unassailable." —John Surma, retired CEO, US Steel

"Dan DiMicco's thinking on energy, the economy, and just about everything else is a refreshing departure from the us-vs.-them rancor that surrounds these pressing issues today. With characteristic pragmatism, he speaks for the millions of people feeling left behind no matter what the stock ticker says, and reminds us that there's never been a more dangerous time for America to take its collective eye off the ball." —Jim Rogers, former Chairman and CEO, Duke Energy

"Dan has been an essential voice and advocate for the role of manufacturing in our country. In this book, he outlines a roadmap for the future of manufacturing and job creation that just might change some minds." —Matt Rose, Executive Chairman, BNSF Railway
St. Martin's Press, 9781137279798, 256pp.
Publication Date: March 3, 2015
About the Author
Dan DiMicco is the former CEO and Chairman Emeritus of Nucor, the largest and most profitable U.S. steel company and the largest recycler in North America. He was appointed to the Department of Commerce US Manufacturing Council in 2008 and served until 2011. In January 2012, the American Institute of Steel Construction awarded Mr. DiMicco the Robert P. Stupp Award for Leadership Excellence for recognition of his leadership in the steel construction industry and for his service as an advocate for domestic manufacturing jobs.

DAVID ROTHKOPF is an author and commentator who has written extensively on politics, power and national security. Recent books include Great Questions of Tomorrow, National Insecurity, Power, Inc., Superclass, and Running the World. He is a former senior official in the Clinton Administration and has taught international affairs at Columbia, Georgetown, and Johns Hopkins. He lives in New York City.