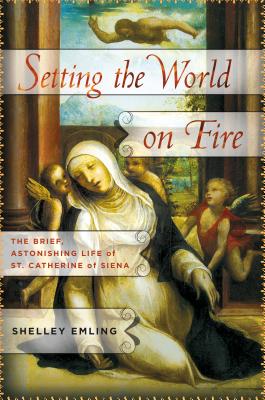 Setting the World on Fire
The Brief, Astonishing Life of St. Catherine of Siena
Hardcover

* Individual store prices may vary.
Description
One of only two patron saints of Italy, the other being St. Francis of Assisi, St. Catherine was ahead of her time. As a political powerhouse in late 14th century Europe, a time of war, social unrest and one of the worst natural disasters of all time--the plague, she worked for peace between Christians while campaigning for a holy crusade against Muslims. She was illiterate but grew into a great writer by dictating to assistants. She was frail and punished herself mercilessly, often starving herself, while offering moral guidance and inspiration to kings, queens and popes.

It's easy to see why feminists through the years have sought to claim the patronage of St. Catherine. From her refusal to marry to her assertion that her physical appearance was of no importance, the famous Saint is ripe for modern interpretation. She was a peacemaker during Siena's revolution of 1368, sometimes addressing thousands of people in squares and streets; she convinced Pope Gregory XI to return the papacy to Rome at a time when the Catholic Church was unraveling.

How did this girl, the second-youngest of 25 children of a middle-class dyer, grow to become one of the most beloved spiritual figures of all time, a theological giant to rank alongside the likes of Thomas Aquinas? In Setting the World on Fire, Emling gives an intimate portrayal of this fascinating and revolutionary woman.
Praise For Setting the World on Fire: The Brief, Astonishing Life of St. Catherine of Siena…
"The story of how [St. Catherine of Siena] became one of the most beloved — and well-respected — figures of all time is fascinating, and Emling's research is impeccable, filled with vivid descriptions that bring you back in time." —Lois Alter Mark, midlifeattheoasis.com

"Emling's portrait of St. Catherine's brief life and its tremendous influence in Italy and around the world is engaging and enlightening." —Publisher's Weekly

"This first modern, secular biography of St. Catherine of Siena details the mystic's brief life from 1347-80, a time of 'tragedy, violence, and corruption' in church and state." —Library Journal

"Shelley Emling has given us a lively contemporary retelling of the life of one of the most amazing women ever. Transporting the reader to a medieval Italy riven by war and plague, she recounts how a headstrong daughter of wool dyers became an emaciated mystic adored by the crowds and an influential reformer at a time of deep division in both Church and state. Catherine of Siena was that most paradoxical of figures: an unlettered nun who was one of the great teachers of her age, a powerless woman who was feared and admired by popes and princes, and a consecrated virgin whose total immersion in Jesus Christ freed her from the constraints of her age. Emling rescues Catherine from the hagiographers but handles her subject tenderly and respectfully, in the process breathing new life into a remarkable figure." —Austen Ivereigh, author, The Great Reformer: Francis and the Making of a Radical Pope

"It's a pleasure to revisit the life of Catherine of Siena in Shelley Emling's fast paced but thorough biography of one of the Catholic Church's greatest saints. Catherine struggled with feckless clergy, warring popes, conniving cardinals and her own formidable mother, but the fact that the Church survived her era is in large part due to Catherine and her unwavering confidence in the guidance of the Holy Spirit." —Sarah Gallick, author, The Big Book of Women Saints

"Relying on meticulous research, a gift for storytelling and obvious admiration for her subject, Emling conveys the unique and often bizarre life of St Catherine across a seven hundred year span to 21st century readers who will find in her story important lessons for our own morally challenged world." —John Moody, author of Pope John Paul II (Biography)
St. Martin's Press, 9781137279804, 256pp.
Publication Date: April 5, 2016
About the Author
Shelley Emling is a senior editor at The Huffington Post and, as a journalist for more than twenty years, her work, including science articles, has previously appeared in such outlets as The New York Times, Fortune, Slate, The Wall Street Journal, The Times, The Boston Globe, The Huffington Post, The Christian Science Monitor, and FoxNews.com. She covered Europe for six years for Cox Newspapers, a chain of 17 daily newspapers across the United States that includes The Atlanta Journal Constitution. She launched one of the first blogs for The International Herald Tribune, called 'Raising the Roof.' She lives in Montclair, New Jersey.
or
Not Currently Available for Direct Purchase