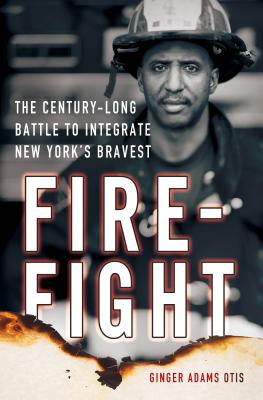 Firefight (Hardcover)
The Century-Long Battle to Integrate New York's Bravest
St. Martin's Press, 9781137280015, 288pp.
Publication Date: May 26, 2015
* Individual store prices may vary.
Description
In 1919, when Wesley Williams became a New York City firefighter, he stepped into a world that was 100% white and predominantly Irish. As far as this city knew, black men in the Fire Department of New York (FDNY) tended horses.
Nearly a century later, many things in the FDNY had changed—but not the scarcity of blacks. New York had about 300 black firefighters—roughly 3 percent of the 11,000 New York firefighters in a city of two million African Americans. That made the FDNY a true aberration compared to all the other uniformed departments, like the NYPD. Decades earlier, women and blacks had sued over its hiring practices and won. But the FDNY never took permanent steps to eradicate the inequities, which led to a courtroom show-down between New York City's billionaire Mayor, Mike Bloomberg, and a determined group of black activist firefighters. It was not until 2014 that the city settled the $98 million lawsuit.
At the center of this book are stories of courage—about firefighters risking their lives in the line of duty but also risking their livelihood by battling an unjust system. Among them: FDNY Captain Paul Washington, a second generation black firefighter, who spent his multi-decade career fighting to get minorities on the job. He faced an insular culture made up of relatives who never saw their own inclusion as favoritism.
Based on author Ginger Adams Otis' years of on the ground reporting, Firefight is an exciting blend of the high-octane energy of firefighting and critical Civil Rights history.
About the Author
GINGER ADAMS OTIS has been writing about New York City and local politics for more than a decade. She is a staff writer at the NY Daily News and previously worked at the NY Post. Otis started covering City Hall and the Fire Department when she worked for The Chief-Leader. She's been a radio and print freelancer for WNYC, the Associated Press, BBC, National Public Radio, The Village Voice and national magazines such as Jane and Ms. She lives in Harlem, NY.
Praise For Firefight: The Century-Long Battle to Integrate New York's Bravest…
"Inspirational ... chronicles the ongoing African-American struggle to join the ranks of New York City's firefighters a century after it was first integrated." —Kam Williams
"The seasoned City Hall writer sensitively brings the men and women who were proud to wear their FDNY uniforms to stunning life in multi-dimensional portraits... it is through Firefight's pages that we are reminded that even against the insurmountable odds that the only way to cope with change is to create it-from within." —Patrik Henry Bass, NY1's The Book Reader
"Engrossing....Vital and of interest to all Americans...Essential for all collections." —Library Journal
"In Firefight, Ginger Adams Otis...poses uncomfortable questions about a department that never managed to raise the percentage of blacks on its force beyond about 7 percent." —Sam Roberts, The New York Times
"Compelling.. it's Otis' diligent and meticulous research that burnishes this untold story, and she more than meets the challenge of filling in the historical gaps between Williams' arrival at Engine 55 just months before the nation experienced a paroxysm of racism that came to be called "The Red Summer," and the emergence of today's Vulcan Society." —Herb Boyd, Amsterdam News
"Eye-opening. This is a must-read." —Essence
"Engrossing." —Amsterdam News
"If you think New York is a liberal bastion, let Ginger Otis take you into its heartland of heroes, the FDNY, the whitest major fire department in America where exclusion is the driving engine. The real heroes of the department, it turns out, are its handful of black firefighters who took on unions, commissioners and mayors to finally, with a strong assist from a courageous federal judge, force real change. Otis' sparkling narrative, alive with the dialogue of struggle, is an indictment of the protected white enclaves that still exist in our nation's diverse cities and an affirmation of those determined enough to transform them." —Wayne Barrett, Nation Institute Fellow and Contributor, Newsweek
"Firefight is a formidable work of social history that brilliantly sketches the struggle for black equality in New York City's fire department. Ginger Otis highlights the structural obstacles and white privilege that thwart equal opportunity in the FDNY, while underscoring the heroic efforts of black firefighters to put out the fires of racial injustice that rage in their own department. In light of the recent racial troubles sparked by public servants in Ferguson and Staten Island, this powerful and insightful book couldn't be timelier." —Michael Eric Dyson, University Professor of Sociology, Georgetown University and author, HOLLER IF YOU HEAR ME
"An inspiring saga of a few intensely courageous tenacious visionaries who faced two enemies -- fire and bigotry one with water and the other with faith and example. This book is far more absorbing than any fiction and if you are not a New Yorker dive in you will qualify to be native of this city by just reading Firefight." —Malachy McCourt, author, A MONK SWIMMING
"Like a driven fire marshal searching for the point of origin of an historical inferno Ginger Adams Otis in Firefight leaves no cinder unturned in her quest to untangle the scorching hot-button issue of the century long battle to integrate the FDNY. With top notch reporting, vivid writing, and an unquenchable thirst for truth Otis at long last makes order out of the chaos of this important New York story." —Denis Hamill, Columnist, NY Daily News
"In a city now roughly one-third, non-Hispanic white, Firefight details how two richly developed, African-American characters-Capt. Paul Washington and Wesley Williams-- separated by generations, fought for racial equality in a FDNY that's been nearly all-white for more than 150 years. Firefight clocks the long struggle between black and white firefighters within the station-house, down back alleys, in fancy restaurants, the Mayor's office--and finally in the courthouse.
Ginger Adams Otis unfolds her story with telling details, searing anecdotes, and a vivid touch, bringing alive the personages on both sides of the issue, as well as the city politicians ducking for cover over the decades. Station-house racism is put under glass as a case study; and along the way the author names names; documents racial "denial"; and takes readers inside the federal courtroom for the showdown.
Firefight is a gem of the genre." —Les Payne, Pulitzer-Prize winning journalist
"What happens when our 'bravest' turn out to be bigots? Are they still heroes? Ginger Adams Otis has written a spellbinding account of the long and relentless struggle to tear down the Fire Department of New York's unwritten color bar. Written with grace and wit, Firefight tells the story of the most extraordinary black men who were the first to take on the FDNY, and in so doing she reminds us what it means to be a hero." —Robin D. G. Kelley, author of THELONIOUS MONK: THE LIFE AND TIMES OF AN AMERICAN ORIGINAL
"Ginger Otis' amazing book is must reading for anyone interested in how cities work. Firefight shows struggles from the formation of early urban black communities to the Michael Bloomberg era when everyone avowed support for inclusion and the city was still taken to court for the now rare charge of intentional discrimination." —Thulani Davis, Professor of Afro-American Studies University of Wisconsin-Madison
"A riveting account of the hundred-year battle on New York City streets, in its courtrooms and inside its firehouses to racially integrate the nation's largest fire department. From pioneer black firefighters An extraordinary saga that Ginger Otis depicts with rich detail and elegant style." —Juan González, "Democracy Now!" Co-host and author of News for All the People
or
Not Currently Available for Direct Purchase