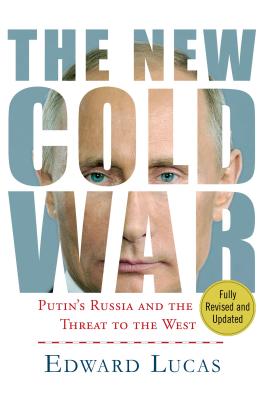 The New Cold War
Putin's Russia and the Threat to the West
Paperback

* Individual store prices may vary.
Other Editions of This Title:
Hardcover (2/19/2008)
Paperback (5/1/2009)
Description
The first edition of The New Cold War was published to great critical acclaim. Edward Lucas has established himself as a top expert in the field, appearing on numerous programs, including Lou Dobbs, MSNBC, NBC Nightly News, CNN, and NPR.
Since The New Cold War was first published in February 2008, Russia has become more authoritarian and corrupt, its institutions are weaker, and reforms have fizzled. In this revised and updated third edition, Lucas includes a new preface on the Crimean crisis, including analysis of the dismemberment of Ukraine, and a look at the devastating effects it may have from bloodshed to economic losses. Lucas reveals the asymmetrical relationship between Russia and the West, a result of the fact that Russia is prepared to use armed force whenever necessary, while the West is not. Hard-hitting and powerful, The New Cold War is a sobering look at Russia's current aggression and what it means for the world.
This edition includes 30% updated material. It is also fully updated to include an incisive analysis of the Crimean crisis, from Russia's seizure of the region to the dismemberment of Ukraine.
Praise For The New Cold War: Putin's Russia and the Threat to the West…
"Lucas makes a powerful case …The New Cold War is intelligent [and] thoughtful … the first comprehensive compendium of the Kremlin's crimes against Russians and non-Russians alike." —Peter Savodnik, Time
"Lucas is a fine writer, and his prose has all the verve and punch that the best of his magazine, The Economist, has to offer." —Foreign Affairs
"A meticulously constructed indictment of Putin's strong-arm tactics at home and his increasingly aggressive tone in dealing with his immediate neighbors and any other countries that try to question his behavior." —Newsweek.com
"Brilliantly reported, morally unblinkered look at what has happened to Russia under Mr. Putin…For bringing the nature of the threat so vividly to light, Mr. Lucas has performed a public service." —Brent Stephens, Wall Street Journal
"Highly informed, crisply written and alarming... Wise up and stick together is the concluding message in Lucas's outstanding book." —Michael Burleigh, Evening Standard
"Lucas has a vivid, highly readable style." —George Walden, Bloomberg.com
"Whether this campaign of bullying is comparable to the Cold War is a matter of huge importance to the West. Hence it matters which experts we pay attention to….I can unreservedly recommend Edward Lucas. The New Cold War is about the fate that has yet again befallen the unfortunate region of Europe that lies on the borderlands of East and West." —Daniel Johnson, New York Sun
"The New Cold War powerfully argues that America and Europe's excessive focus on Iraq and Afghanistan has blinded them to a threat closer to home. Thoroughly informed, steeped in his subject's recent history, with a flinty, caustic style that usually sizes up political phenomena with exacting precision, Lucas reminds us why longtime foreign correspondents surpass rookies who parachute into a foreign hotspot....Lucas offers one of the best briefs on how Yeltsin's Wild West became Putin's chilly petrofascism, detailing the return of rigged elections, forced psychiatric medication, the use of natural resources as foreign-policy bludgeons, and the rogue nations that are once again Moscow's best friends." —Philadelphia Inquirer
"Edward Lucas is one of the best-informed, best-connected, and most perceptive journalists writing about Putin's Russia. The New Cold War is essential reading for anyone who wants to understand what is happening in Eastern Europe and the former Soviet Union today." —Anne Applebaum, author of Gulag, A History
"Edward Lucas's absorbing book shows the forces that are turning Russia against the West. They include militarism, greed, and a failure to understand that national greatness can be based only on civilized values. It is an invaluable primer for students of the Russian situation and a cautionary tale for those who prefer to treat Russia as it pretends to be rather than as it is." —David Satter, author of Darkness at Dawn: The Rise of the Russian Criminal State
"While the West is preoccupied with the Middle East and Islamic terrorism, Edward Lucas warns, Russia is quietly reinventing herself as a milder version of the Soviet Union and hence as a new threat to the West. Conceding Putin's domestic achievements, the seasoned East European correspondent of The Economist tracks post-Communist Russia's skillful exploitation of the capitalist world's greed to divide and thus to dominate it. It is a chilling account that needs to be taken seriously." —Richard Pipes, author of The Russian Revolution
"Veteran Moscow news correspondent Edward Lucas provides an authoritative analysis of the disturbing events in Russia today in this thoughtful, thoroughly researched and brilliantly written book that deserves the widest possible readership." —Robert Gellately, author of Lenin, Stalin and Hitler: The Age of Social Catastrophe
"Edward Lucas offers a devastating but apt critique of Vladimir Putin's domestic repression and increasingly aggressive foreign policy. This stark and clear-sighted book is an excellent read. It makes evident the need for a new Western policy. Russia's political development is one of the key issues of our time." —Anders Åslund, senior fellow, Peterson Institute for International Economics, Washington, D.C.
"Edward Lucas has written a brilliant and profoundly disturbing study of modern Russia. It is the history of rediscovered authoritarianism and the stunning brutality with which the KGB elite returned to power. It is also the story of how Western venality and political credulity made this possible and placed the security of Europe at risk. Above all, this is the tale of how President Putin methodically destroyed the vestiges of democracy in Russia and launched a New Cold War against the West. It is difficult to overstate the importance of Edward Lucas's latest work for US and European policymakers." —Bruce P. Jackson, President, Project on Transitional Democracies
St. Martin's Griffin, 9781137280039, 384pp.
Publication Date: July 29, 2014
About the Author
Edward Lucas covered Eastern Europe for The Economist for over twenty years, witnessing the end of the last Cold War, the parting of the Iron Curtain, and, as the Moscow bureau chief, covered Boris Yeltsin's reign and Vladimir Putin's rise to power. He is the author of The New Cold War; Cyberphobia: Identity, Trust, Security and the Internet; and Deception: Spies, Lies and How Russia Dupes the West. He lives in London, England.