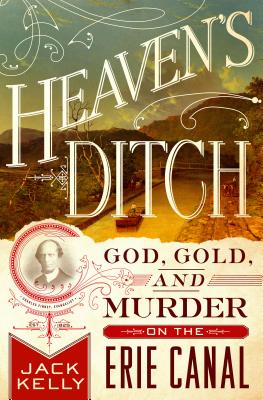 Heaven's Ditch
God, Gold, and Murder on the Erie Canal
Hardcover

* Individual store prices may vary.
Other Editions of This Title:
Digital Audiobook (7/4/2016)
Paperback (5/30/2017)
Compact Disc (7/5/2016)
MP3 CD (7/5/2016)
Compact Disc (7/5/2016)
Description
A page-turning narrative, Heaven's Ditch offers an excitingly fresh look at a heady, foundational moment in American history.

The technological marvel of its age, the Erie Canal grew out of a sudden fit of inspiration. Proponents didn't just dream; they built a 360-mile waterway entirely by hand and largely through wilderness. As excitement crackled down its length, the canal became the scene of the most striking outburst of imagination in American history. Zealots invented new religions and new modes of living. The Erie Canal made New York the financial capital of America and brought the modern world crashing into the frontier. Men and women saw God face to face, gained and lost fortunes, and reveled in a period of intense spiritual creativity.

Heaven's Ditch by Jack Kelly illuminates the spiritual and political upheavals along this "psychic highway" from its opening in 1825 through 1844. "Wage slave" Sam Patch became America's first celebrity daredevil. William Miller envisioned the apocalypse. Farm boy Joseph Smith gave birth to Mormonism, a new and distinctly American religion. Along the way, the reader encounters America's very first "crime of the century," a treasure hunt, searing acts of violence, a visionary cross-dresser, and a panoply of fanatics, mystics, and hoaxers.
Praise For Heaven's Ditch: God, Gold, and Murder on the Erie Canal…
**An Amazon Best History Book of July 2016**

"A page-turning narrative, Heaven's Ditch offers an excitingly fresh look at a heady, foundational moment in American history." —The Gleaner

"A fine...history." —Booklist

"Engagingly juxtaposes the challenges confronting the dreamers who envisioned a link between the Atlantic, the Great Lakes and the apocalyptic caldron brewing upstate." —The New York Times

"Kelly is an excellent storyteller. He has a gift for combining the familiar with the unfamiliar..." —Ithaca Times

"The award-winning author of Band of Giants has a gift for knocking the starch out of history. Turning from the Revolutionary War to the 19th century construction of the Erie Canal, Kelly spins another historical page-turner." —Chronogram

"An intriguing account of often overlooked events...during one of the most tumultuous times of American history." —Library Journal

"Compelling ...Kelly captures the enormous excitement of these heady days. An intriguing synthesis of American cultural and economic currents in the early 19th century." —Kirkus Reviews

"Heaven's Ditch is the fantastic story of a fantastic undertaking through a fantastic country—the wild, turbulent, sometimes murderous construction of the greatest engineering project since the pyramids, built through an America bubbling with religious revivals, get-rich-quick schemes, and manifest destiny. It's all true! Stranger than fiction but just as entertaining." —Kevin Baker, author of The Big Crowd

"Jack Kelly's entertaining romp across upstate New York during the early years of the Erie Canal is fascinating, shocking, and filled with surprises. From religious fanatics to murderers to genius engineers, they're all here, transforming America in their wake." —Lauren Belfer, New York Times bestselling author of CITY OF LIGHT and AND AFTER THE FIRE

"An adventure story disguised as the history of the Erie Canal, Heaven's Ditch is compelling reading, fascinating history and a character driven chronicle of a lost America. Highly recommended." —Chris Morrow, Northshire Bookstores

"Heaven's Ditch reminds us how man and God have long mingled in the psyche of America, where strong, deep, competing urges for commercial and spiritual uplift give us destructive chaos and astonishing progress. Heaven's Ditch is beautifully written and masterfully told: intelligent and insightful new history." —Gerard Koeppel, author of Bond of Union: Building the Erie Canal and the American Empire

"In this bright, breezy, and immensely informative account, Jack Kelly interweaves the saga of one of the nation's greatest engineering feats, the Erie Canal, with the stories of Joseph Smith and a half dozen other colorful figures who peopled upstate New York in its most creative period." —Richard Lyman Bushman, preeminent scholar of Mormonism and author of Joseph Smith: Rough Stone Rolling, the definitive biography of the church's founder

"The Erie Canal was the most audacious public works project of its day, a game-changer in American history, and the stage for some wild and intriguing characters and events – including daredevils, zealots and Mormons. Who knew? Jack Kelly's Heaven's Ditch tells a not-to-be-missed story in a reader-friendly style. Sure to be a hit, this thought-provoking book will definitely spark discussion." —Erica Freudenberger, Director, Red Hook Public Library, Best Small Library in America Award finalist

"Kelly's study of upstate New York is a compelling history of ambition and religious fervor in early 19th century America." —Dick Hermans, owner of Oblong Books in Millbrook and Rhinebeck and a past president of the New England Independent Booksellers Association

"It was a fun read and very informative. The book is a wonderful read and really captures much of the transformation that was occurring culturally, politically and religiously in the first half of the 19th century and around the canal." —David Brooks, Education Coordinator, Schoharie Crossing State Historic Site

"Well researched work showing Kelly's deft ability to bring to life the strong and pivotal characters who, by will or grace, moved American History forward." —Susan Fargione at Merritt Bookstore in Millbrook, NY
St. Martin's Press, 9781137280091, 304pp.
Publication Date: July 5, 2016
About the Author
JACK KELLY is a journalist, novelist, and historian, whose books include Band of Giants, which received the DAR's History Award Medal. He has contributed to national periodicals including The Wall Street Journal and is a New York Foundation for the Arts fellow. He has appeared on The History Channel and interviewed on National Public Radio. He grew up in a town in the canal corridor adjacent to Palmyra, Joseph Smith's home. He lives in New York's Hudson Valley.
or
Not Currently Available for Direct Purchase