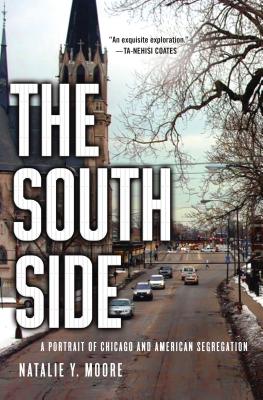 The South Side
A Portrait of Chicago and American Segregation
Hardcover

* Individual store prices may vary.
Other Editions of This Title:
Paperback (4/4/2017)
Compact Disc (6/15/2016)
MP3 CD (6/15/2016)
Compact Disc (6/15/2016)
MP3 CD (6/15/2016)
Description
**One of Buzzfeed's 18 Best Nonfiction Books Of 2016**

A lyrical, intelligent, authentic, and necessary look at the intersection of race and class in Chicago, a Great American City

In this intelligent and highly important narrative, Chicago-native Natalie Moore shines a light on contemporary segregation in the city's South Side; with a memoirist's eye, she showcases the lives of these communities through the stories of people who reside there. The South Side shows the impact of Chicago's historic segregation - and the ongoing policies that keep the system intact.
Praise For The South Side: A Portrait of Chicago and American Segregation…
**One of Buzzfeed's 18 Best Nonfiction Books Of 2016**
**Author named a 2021 United States Artist Fellow in Writing**

"Moore, a longtime reporter for WBEZ in Chicago and a native of the Chatham neighborhood on the South Side, digs into the ways that segregation continues to shape the politics of her hometown, as well as her own life." —The Chicago Crusader

"Moore...weaves her life story through a well-researched account of the policies that have shaped Chicago into a city often described as separate and unequal." —The Chicago Sun-Times

"A reminder that even though great gains have been made in the development of integrated neighborhoods and suburbs, Chicago is still shackled by the chains of segregation, chains that limit the potential of hundreds of thousands of African-Americans and impoverish the lives of all residents of the region...a clarion call for us to break the chains that bind us and allow our imaginations to be free to take on — and change — the systemic reality of segregation and its impact on all of us." —The Chicago Tribune

"What's important about Natalie Y. Moore's new book is less that it's about Chicago's south side, and more that it's of the south side, deeply and lovingly, in a way journalism about the area rarely is...a powerful political document." —The Chicago Reader

"The South Side is a comprehensive iconoclastic investigation of segregated black Chicago, past and present … an essential book for anyone interested in the history and current state of race in the urban U.S." —ShelfAwareness

"Some serious food for thought for dwellers of all US cities." —The New York Post

"Recommended reading for anyone who wants to more fully understand the roots of current Chicago issues … Moore's personal reflections are honest and fascinating, making 'The South Side' shine." —Associated Press

"Moore strikes an admirable balance between palpable love for Chicago's diversities and clear-eyed anger at the powerful forces dividing America's third-largest city into different worlds." —Pacific Standard

"As questions and criticism about race in America rightfully continue to dominate the national conversation, this book brings the problem right to home. Moore, the South Side bureau reporter for WBEZ, explores how institutionalized segregation continues to keep predominantly black neighborhoods at an economic and educational disadvantage." —RedEye

"An excellent work for all readers interested in knowing more about important, ongoing urban issues." —Library Journal

"Thoughtful and clarifying investigation … Moore refines our perception of the realities of segregation and the many possible paths to change."—Booklist

"Natalie Moore's The South Side is an exquisite exploration of a portion of Chicago that has long embodied the problems and promise of black America. Moore brings her considerable gifts as a journalist and historian to bear along with her knowledge as a South Side native. Moore's latest is essential to anyone attempting to understand race in Chicago, our most American of cities." —Ta-Nehisi Coates, author of Between the World and Me

"Moore has captured the rhythm of Chicago, its beauty and heartbreak, and its racial demons and activist angels with such vibrant prose and personality that she has achieved that rare literary feat: it is both a page-turner and magnum opus. By traveling to the South Side with her, we not only understand why it has been able to produce some of our nation's most exceptional African American leaders, but also how its ongoing racial segregation haunts and harms the vast majority of Chicagoans today." —Salamishah Tillet, Associate Professor of English and Africana Studies, University of Pennsylvania

"In a highly readable, conversational style, Moore demonstrates refreshing candor about how racial inequality infuses every aspect of daily life." —Kirkus Reviews
St. Martin's Press, 9781137280152, 272pp.
Publication Date: March 22, 2016
About the Author
NATALIE Y. MOORE is the South Side bureau reporter for WBEZ, the NPR-member station in Chicago, where she's known as the South Side Lois Lane. Before joining WBEZ, she covered Detroit City Council for the Detroit News. She has also worked as an education reporter for the St. Paul Pioneer Press and a reporter for the Associated Press in Jerusalem. Her work has been published in Essence, Black Enterprise, the Chicago Reporter, Bitch, In These Times, the Chicago Sun-Times and the Chicago Tribune. She lives in Chicago, IL.
or
Not Currently Available for Direct Purchase