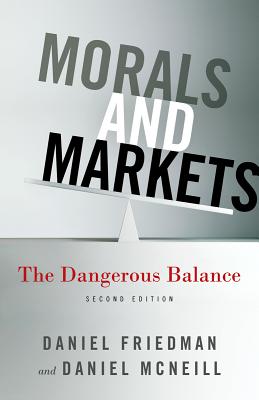 Morals and Markets
The Dangerous Balance
Paperback

* Individual store prices may vary.
Description
Friedman and McNeill draw on recent research in evolutionary game theory and behavioral economics to explore the relationship between our moral codes and our market systems. They show how imbalance between morals and markets is at the root of the recent corporate scandals in the US as well as the global financial crisis the world continues to face.
Praise For Morals and Markets: The Dangerous Balance…
"Morals and Markets shows in example after example that absence of morals and absence of markets leads to poverty and suffering. Our modern society depends upon the balance between the two. And when they break down, as they have in the recent financial crisis, then we have chaos. Friedman and McNeill, who are fascinating on every page, have uncovered one of the fundamental principles of our existence." - George Akerlof, Nobel Laureate in Economics, 2001

"An engrossing and insightful read that draws on the sweep of human history to show the delicate balance between moral codes and economic market rules. This book should be mandatory reading for ideologues on both sides of the debates on the extent to which self-organized markets, freed of regulation, can be relied on to put food on our tables and keep at bay the beasts within us." - Daniel McFadden, Nobel Laureate in Economics, 2000

"As we evolved in small bands, and now live in a crowded civilization of seven billion, we face new problems in figuring out how to get along. This book greatly clarifies our situation by providing a world history of economic systems, and by analyzing many of the recent catastrophes of globalization. The writing is exceptionally vivid, the conceptual framework penetrating. It's a real achievement." - Kim Stanley Robinson, author of 2312 and the Mars Trilogy

"Anyone interested in markets and morals—perhaps the central issue of our time—should read this very interesting and thoughtful book." - Tyler Cowen, Professor of Economics, George Mason University
Palgrave MacMillan, 9781137282583, 287pp.
Publication Date: June 17, 2013
About the Author
Daniel Friedman is a well-known economist and theorist who has published widely in leading academic journals in economics, finance, psychology, and politics. His sits on the editorial board of the American Economic Review, the premier academic economics journal, as well as the boards of three other leaders in their fields: The Journal of Evolutionary Economics, Games and Economic Behavior, and Experimental Economics. He has received 11 National Science Foundation grants. His books include Experimental Methods: A Primer for Economists (Cambridge University Press, 1994) with S. Sunder; The Double Auction Market: Institutions, Theories and Evidence (Addison Wesley/Santa Fe Institute, 1993), coedited with J. Rust, about the origin and efficiency of the rules of the New York Stock Exchange and Chicago exchanges; and Economics Lab: An Intensive Course in Experimental Economics, with Alessandra Cassar (Routledge, 2004). He is a professor of economics at his alma mater, the University of California, Santa Cruz. Daniel McNeill is an author with an international reputation. His best-selling Fuzzy Logic (Simon & Schuster, 1993) won the Los Angeles Times Book Prize in Science and Technology. It was also a New York Times Notable Book of the Year, and has been translated into German, Italian, Dutch, Japanese, and Chinese. He is also the author of The Face (Little, Brown, 1998), a Book-of-the-Month Club selection which the Washington Post called 'downright beautiful' and the Frankfurter Allgemaine Zeitung termed 'extremely entertaining and knowledgeable.' The Face has appeared in German, Italian, Dutch, Spanish, Korean, and Chinese. Dan has ghostwritten numerous published books recently, including one for a Harvard scientist and another for the CEO of a Fortune 500 company. He has a degree from Harvard Law School