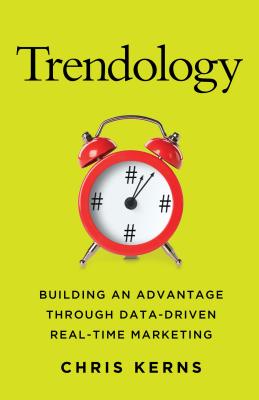 Trendology (Hardcover)
Building an Advantage Through Data-Driven Real-Time Marketing
Palgrave MacMillan, 9781137479556, 234pp.
Publication Date: November 11, 2014
Other Editions of This Title:
Paperback (11/11/2014)
* Individual store prices may vary.
Description
In this, the first data-driven guide to real time marketing, Chris Kerns outlines the value of RTM via a comprehensive social data performance analysis. He lays out best practices for measuring RTM, injects a data-driven mindset into every step of its methodology, and shows how marketers can grow RTM into a daily win for brands across the globe.
About the Author
Chris Kerns has been at the forefront of digital data and insights for over a decade, defining digital strategy for some of the world's largest brands. He currently leads the Analytics & Research group at Spredfast, a social marketing platform that empowers enterprise organizations to connect with consumers in an increasingly social world. Previously, he led Digital Analytics at Bazaarvoice, mining user-generated content for groundbreaking insights. In an earlier role, Kerns served as head of the Digital Analytics group for the global agency POSSIBLE, where he helped Fortune 500 clients like Ford, Microsoft, and Nike maximize their digital performance. His research has appeared in The New York Times, Forbes, USA Today, and AdWeek, among other publications. Follow him at @chriskerns.